For Your Safety and Comfort in Galapagos
Updated: 2022-07-16
Vaccination & Testing requirements for entry to Ecuador and Galapagos are under frequent revision. Click
here
to skip to the details.
Travel in times of the Covid-19 pandemic has been greatly complicated – Particularly when it comes to visiting the Galapagos Islands. Because of our isolation, and relatively elderly population, we are especially vulnerable to the impact of the pandemic. We do have an excellent and modern hospital in San Cristóbal, but it does not have the capacity to deal with an outbreak of infections. For this reason, the local authorities have added an extra layer of security for visitors to the islands, over and above that required for visitors to continental Ecuador.
In addition to the enhanced security measures for entry to Ecuador and Galapagos, local authorities have issued a set of guidelines and protocols, to all sectors of the tourist industry, directing measures to minimize the risk of contagion while hosting, transporting and guiding tourists. The requirements, such as mandatory face masks, interpersonal distancing and mandatory isolation are applicable to travellers as well as to their hosts and will be enforced by local authorities.
These guides are based on our current knowledge of the published protocols. We cannot predict how strictly they will be applied, or how they may change in response to current circumstances.
---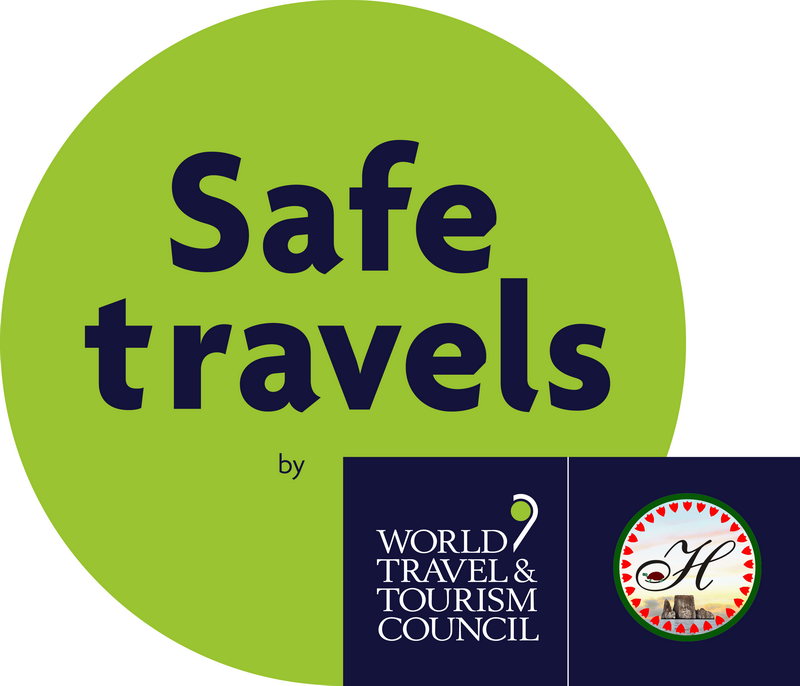 The WTTC Safe Travel Seal
The WTTC (World Travel & Tourism Council) has produced new global Safe Travels protocols for use by the Travel & Tourism sector as best practice guidelines to help restart and speed up the recovery of the sector in the wake of COVID-19. Ecuador has qualified as a trusted destination for the administration and award of the Safe Travel Seal to establishments which are verified as complying with the WTTC and Ecuadorian protocols. Jardin de Helena has qualified to exhibit the Safe Travel Seal.
---
Insurance
Even in the best of times, we urge travellers to obtain travel interruption and cancellation insurance. Now, during the recovery phase, there are still more than the usual number of flight changes and cancellations. There is also the risk of testing positive for Covid-19 and having to cancel your flight and/or pay for an extended stay in your destination.
Article 49 of the Special Law of Galapagos (LOREG) requires that all foreign tourists visiting Galapagos carry private health insurance which covers the considerable cost of air-evacuation to the continent in the event of serious injury or illness. You should not assume that your existing public or group insurance is adequate.
There are several providers selling travel and health insurance which covers the impact of Covid-19. You will find a few of them here .
Protocol Changes
From time to time, the Gobierno or Ministry of Tourism has issued bulletins easing some restrictions, only to have them reinstated later. We advise adherence to the stricter requirements until the protocols are officially revised.
---
Testing and vaccination requirements have been updated as of July 18, 2022. Visit this section for details.
If the timing of your return home necessitates a Covid test before leaving Galapagos, you can do this in San Cristobal or Santa Cruz.
---
The Covid-19 Policy describes enhanced security measures in place for your stay with us in the Galeodan Suites of Jardin de Helena.
---
All the sectors of commerce and tourism have been issued specific protocols to reduce risk of contagion. The ones with the most obvious impact are those that govern group activities in relatively confined spaces, such as bars and restaurants, taxis, shops and, in particularly boat-based sightseeing on Liveaboard Cruises or Daily Tour and Vivencial Fishing Boats.
---