The natural backdrop to the Galápagos' unique species is varied and spectacular in its own right: from hard rock and prickly cactus to verdant woodland and sweeping beaches.
Most of San Cristóbal lies within the Protected Zone of the Galápagos National Park
Any excursion into the Protected Zone must be under the direction of a Naturalist Guide, trained and licensed by the Galápagos National Park. Even then, access is limited to designated "Visit-Sites". Outside the Park, organized groups of 8 or more tourists must still be accompanied by a Naturalist Guide.
Be sure to study and observe the Galápagos National Park's Rules for Visitors
San Cristóbal features several of the Galápagos' premier visit-sites including Kicker Rock (known locally as Léon Dormido), Punta Pitt and Rosa Blanca. And, by sea, the nearby islands of Floreana and Española. San Cristóbal also has numerous beautiful beaches, several of which are in walking distance of the Galeodan Suites.
Sites to Visit:
Sightseeing In & Around Puerto Baquerizo Moreno
All of these sites are within walking distance or a short (5 minute) taxi ride from the Galeodan Suites:
Playa Mann
Interpretation Centre
Punta Carola
Cerro Tijeretas (Frigate Bird Hill)
La Loberia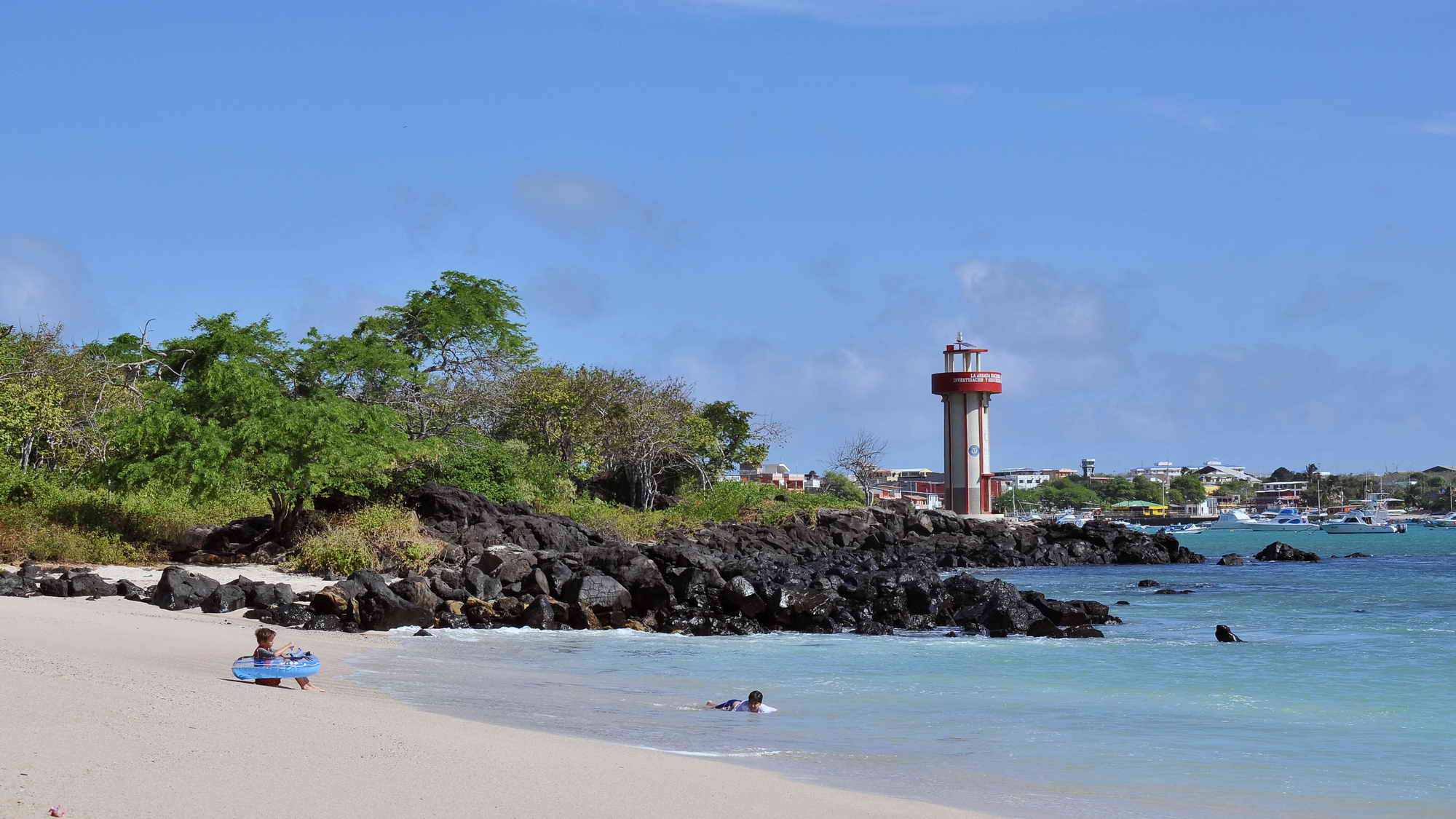 Playa Mann
Playa Mann is just outside the town centre, on the road towards the Interpretation Centre and Punta Carola.
Swimming is best at high tide as offshore it gets rocky. Here you will be sharing the beach, maybe also your beach towel, with sea lions and their pups. The water is generally calm but the occasional strong swell can bring surfable waves.
Playa Mann is just a couple of hundred yards from the Galeodan Suites. The beach is overlooked by GAIAS (Galápagos Institute for the Arts and Sciences) which is a campus of USFQ (University of San Francisco de Quito). Next door to GAIAS is the Galápagos Science Centre.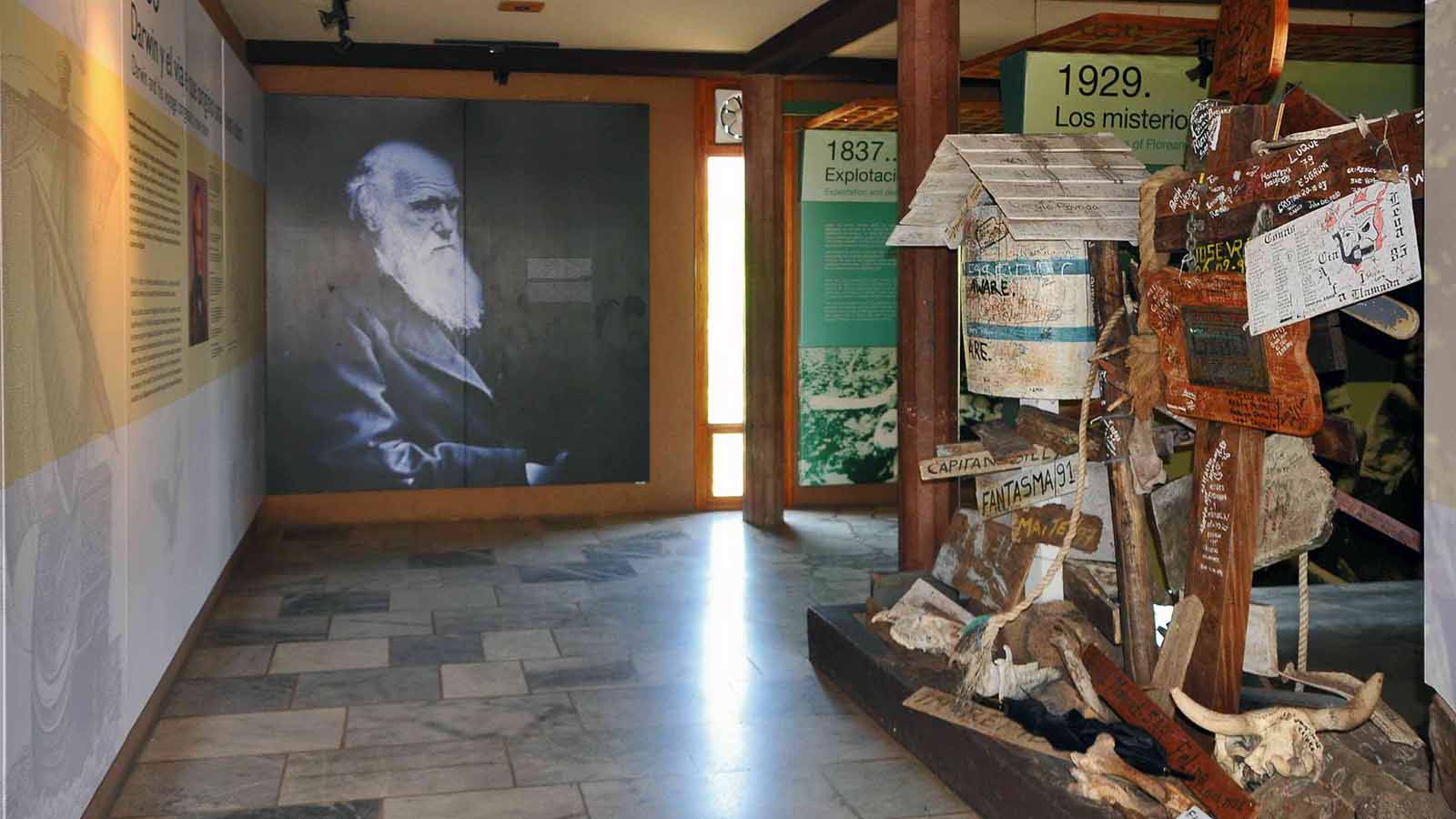 The Interpretation Centre
Here you can learn about the natural history and human history of the Galápagos archipelago: from its fiery origins; its discovery by humans; through generations of attempts to colonize and exploit its natural resources; to the present day with the many challenges facing its human and non-human inhabitants.
A visit to the Centre really gives context to your other Galápagos experiences and should not be missed. You can breeze through in 20 minutes or spend several hours studying the many exhibits
The Interpretation Centre is only 5 minutes walk from the Galeodan Suites and can be self-directed or enhanced by the company of a guide.

Cerro Tijeretas (Frigate Bird Hill)
From the exit of the Interpretation Centre, a path takes you to a spectacular lookout, where you can see the port, Kicker Rock and the Pacific Ocean, facing west, into the sunset.
Walking back, you can take a dip in the crystal clear water of Darwin Bay to snorkel in the company of sea-lions and turtles. The path leads back along the shoreline and through the beach of Punta Carola.
The Tijeretas trail starts 5 minutes from the Galeodan Suites and, like the Interpretation Centre, can be enjoyed either alone or in the company of a guide. The 3.5 mile loop can take anything from one to two hours depending on how many detours you take to enjoy the various monuments and lookout points along the route.
Punta Carola
Punta Carola is named for the promontory which hosts one of Puerto Baquerizo Moreno's navigation lighthouses. There you will see marine iguanas, pelicans, blue-footed boobies and, of course, sea lions. The beach is popular for swimming, snorkelling and, above all, surfing. Punta Carola is one of the best surf beaches in Galápagos and a destination of choice for surfers from around the world. Punta Carola is only a 15-minute walk from the Galeodan Suites.
La Loberia
This mostly rocky beach is so named for its popularity as a nursery for sea lions. It used to be that one would pay a special visit to the Loberia to find sea lions and cubs but these days they are found in significant numbers throughout Puerto Baquerizo Moreno. Several of the human-popular beaches, like Punta Carola and Playa Man are now equally popular with sea lions and humans, and sea lions compete for space to swim, surf and raise their young.
La Loberia is a 5-minute taxi-ride from the Galeodan Suites, just beyond the airport. It is a popular spot for snorkelling and surfing
Sightseeing By Land - The Highlands...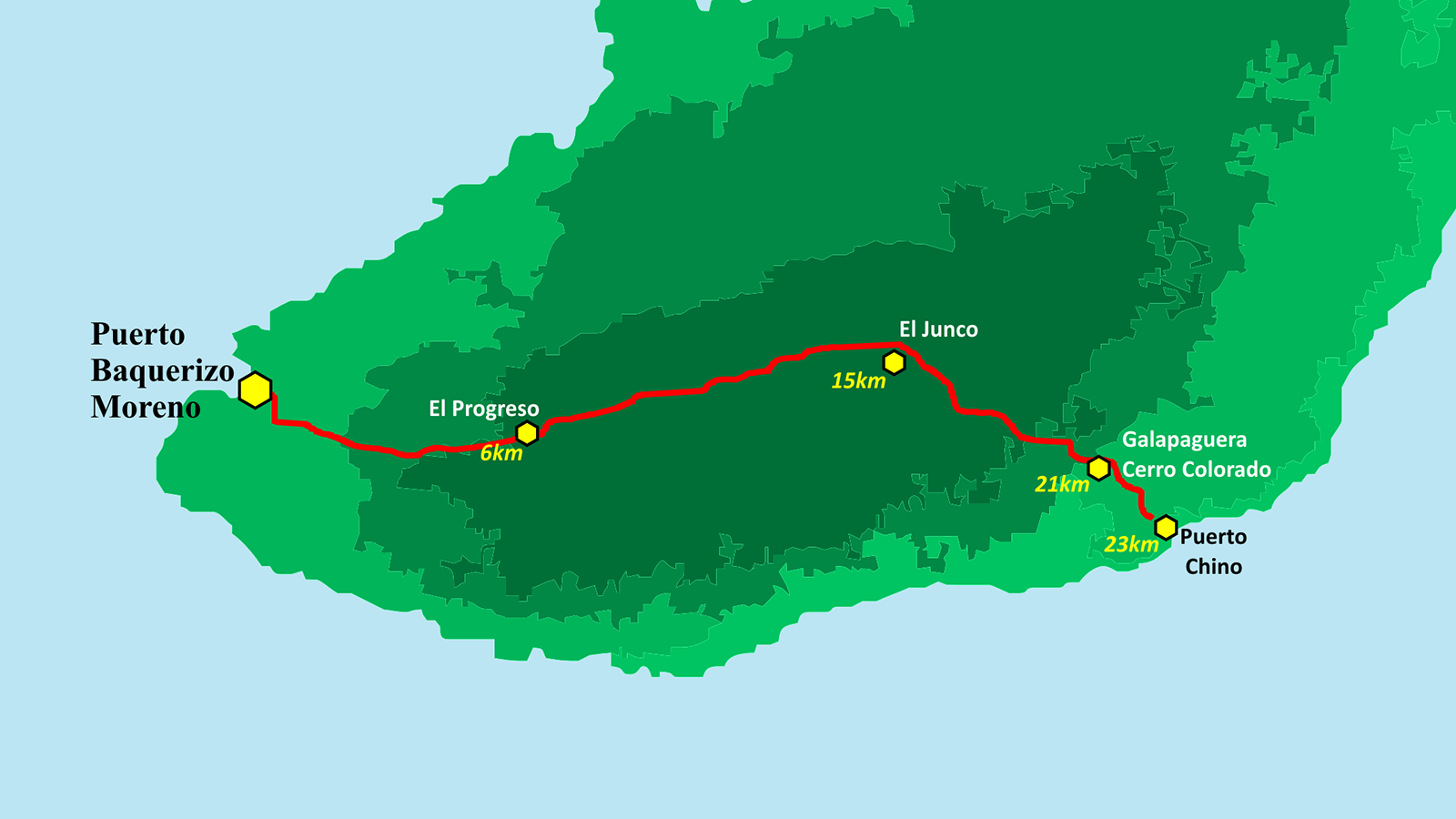 A typical land-based tour of San Cristóbal will take in the following sites which can be visited by taxi or van, alone or in the company of a guide. Sites of interest include:
El Progreso with some detours to
Cobos House & Mill
Mirador \ Lookout points
Lagoon El Junco (crater lake)
Galapaguera Cerro Colorado (tortoise sanctuary)
Puerto Chino (beach)
The regular "Highlands Tour" can be undertaken in half to three-quarters of a day, starting at around 8:30 AM and ending between 1:00 and 3:00PM.
Groups up to 4 can take a taxi, with or without a guide. 5 to 12 will need a van and any more than that: a bus. Note that a group of 8 or more will also need to be accompanied by a naturalist guide.
El Progreso
El Progreso is only 6 km inland from Puerto Baquerizo Moreno. At an elevation of just over 300m, the climate and vegetation are completely different. While the shore is hot and arid, little more than rocks and cactus in the dry season, the highlands are green and lush with year-round rain and abundant fresh water.
El Progreso, with a population of around 500, is the longest surviving community on the islands. It was, at one time a penal colony and later the center of a sugar cane plantation, under the direction of the infamous Manuel Cobos, ultimately murdered by his "employees" (slaves). The ruins of the house and mill are one of the more significant sites of historic interest on the Island.
El Progreso is surrounded by small, privately owned farms. Whereas in many countries, the population heads to the beach on weekends, here on San Cristóbal, everyone heads for the highlands. After making the trip yourself, you will understand why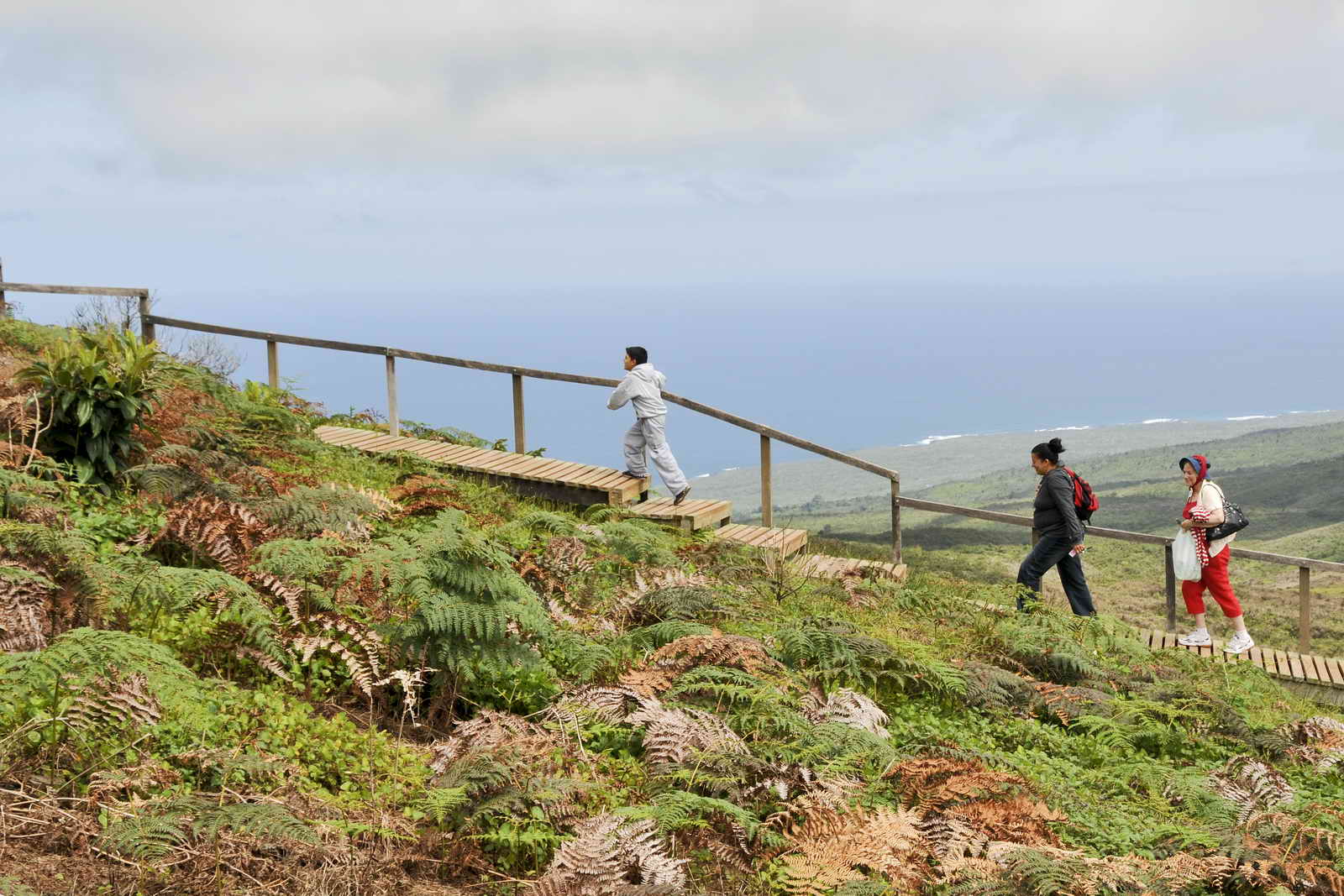 Lagoon El Junco (Crater Lake)
9km beyond El Progreso, at 700m elevation, is Lagoon El Junco. El Junco is the only freshwater lake of significant size in the archipelago and is the source of water for the population of San Cristóbal.
The lagoon, in the crater of a long extinct volcano, is about 270m wide and the depth varies from 1 to 6 m depending on the rains. It is worth a visit for the panoramic vistas as much as for the lagoon itself.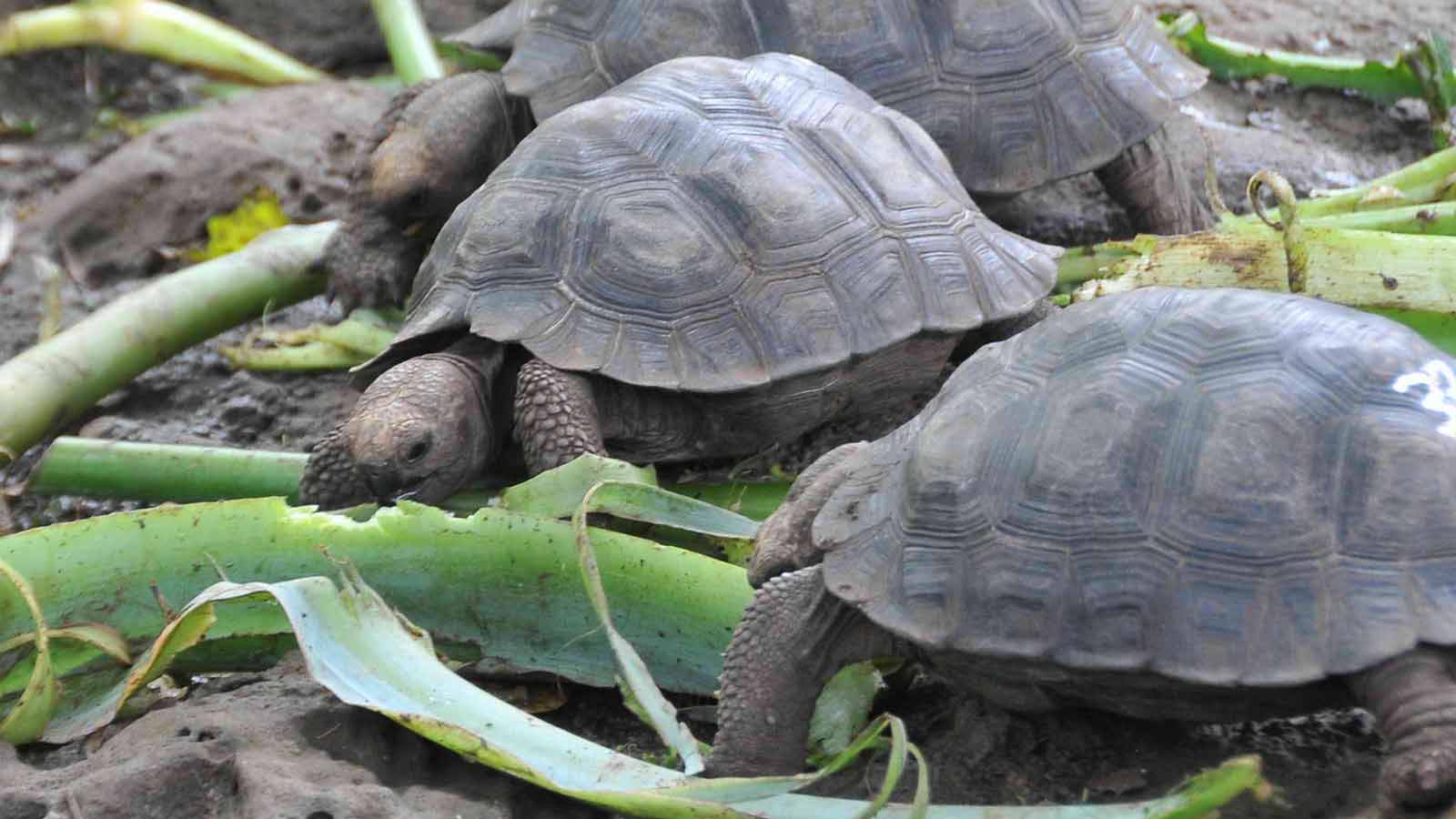 Galapaguera Cerro Colorado
The Galapaguera is a tortoise breeding centre, 21km from Puerto Baquerizo Moreno, on the same road as El Junco.
It is also called Galapaguera Semi-Natural because it provides a natural but protected environment for adult tortoises as well as hatching and growing pens for the juveniles.
Feeding time at the Galapaguera is around 9:00AM, 3 times a week. That's a good time to visit as they tend to congregate more around the viewing areas.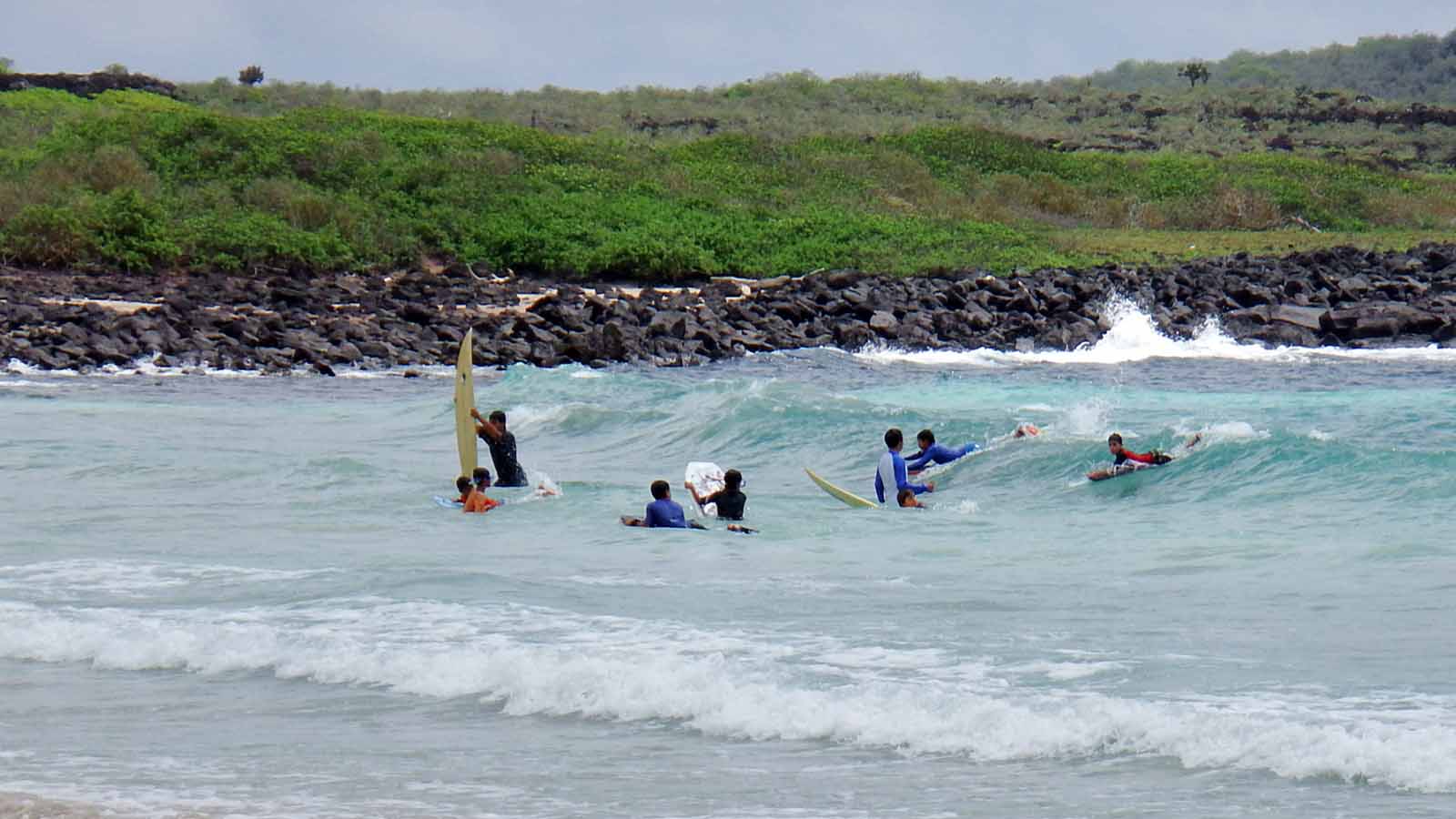 Puerto Chino
Just 2km beyond the Galapaguera is the beach of Puerto Chino. The road stops just a few hundred yards short of the beach itself and the journey is completed on foot.
Puerto Chino is a deep and wide white sandy beach, with good, sometimes excellent, surfing. It is especially good for novices as the bottom is sandy rather than rocky.

Sightseeing By Sea
Most of the designated Visit-Sites are accessible only by sea, on a licensed boat, in the company of a Naturalist Guide. The water-based tours include elements of hiking and snorkelling (or diving). Boats vary in size and comfort, depending on their origin: some were once commercial fishing boats while others were purpose-built for tourism. There are two categories of boat:
Vivencial Fishing Boats
Daily Tour Boats
Vivencial Fishing Boats
These boats are operated by fishing families where the owner has relinquished the artisanal (commercial) fishing licence in order to take tourists on excursions to fish and visit several exclusive sites.
In addition to fishing excursions, Vivencial Fishing boats visit Española and Floreana, and combine several sites, including Kicker Rock, in the very popular "360 Tour".
Vivencial Fishing boats take a maximum of 12 passengers and vary considerably both in size (8.5m to 11.5m) and level of comfort, depending on their origin: some started life as working fishing boats while others were purpose-built for tourism.
Vivencial Fishing boats carry a bilingual Naturalist Guide and offer snorkelling at various sites including Kicker Rock.
Tours generally include lunch, snorkel gear, and towels, while wetsuits may be included or offered for a nominal charge (typically $5). Scuba gear may or may not be included, depending on the operator.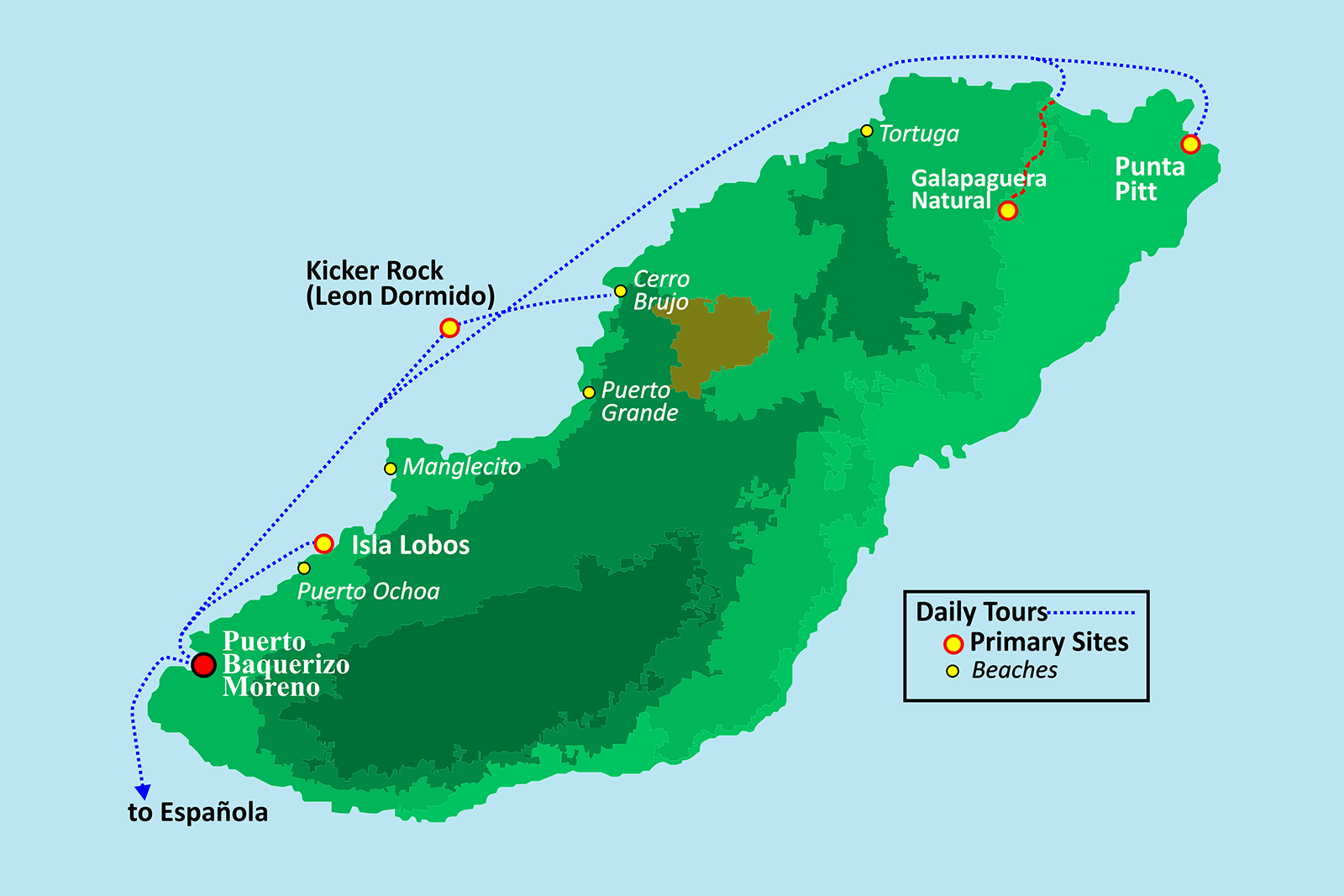 Daily Tour Boats
The Daily Tour boats have always been purposed for tourism but also vary considerably in size and comfort with some trading speed for additional space. They are limited to 12 or 16 passengers depending on the destination
Daily Tour boats also visit Española, 32 miles due south of PBM, about the same distance as Punta Pitt.
Daily Tour boats carry a bilingual guide and some offer diving as well as snorkelling at various sites including Kicker Rock.
Tours generally include lunch, snorkel gear, and towels, while wetsuits may be included or offered for a nominal charge (typically $5). Scuba gear may or may not be included, depending on the operator.

Destinations
Kicker Rock \ Léon Dormido
Vivencial & Daily Tours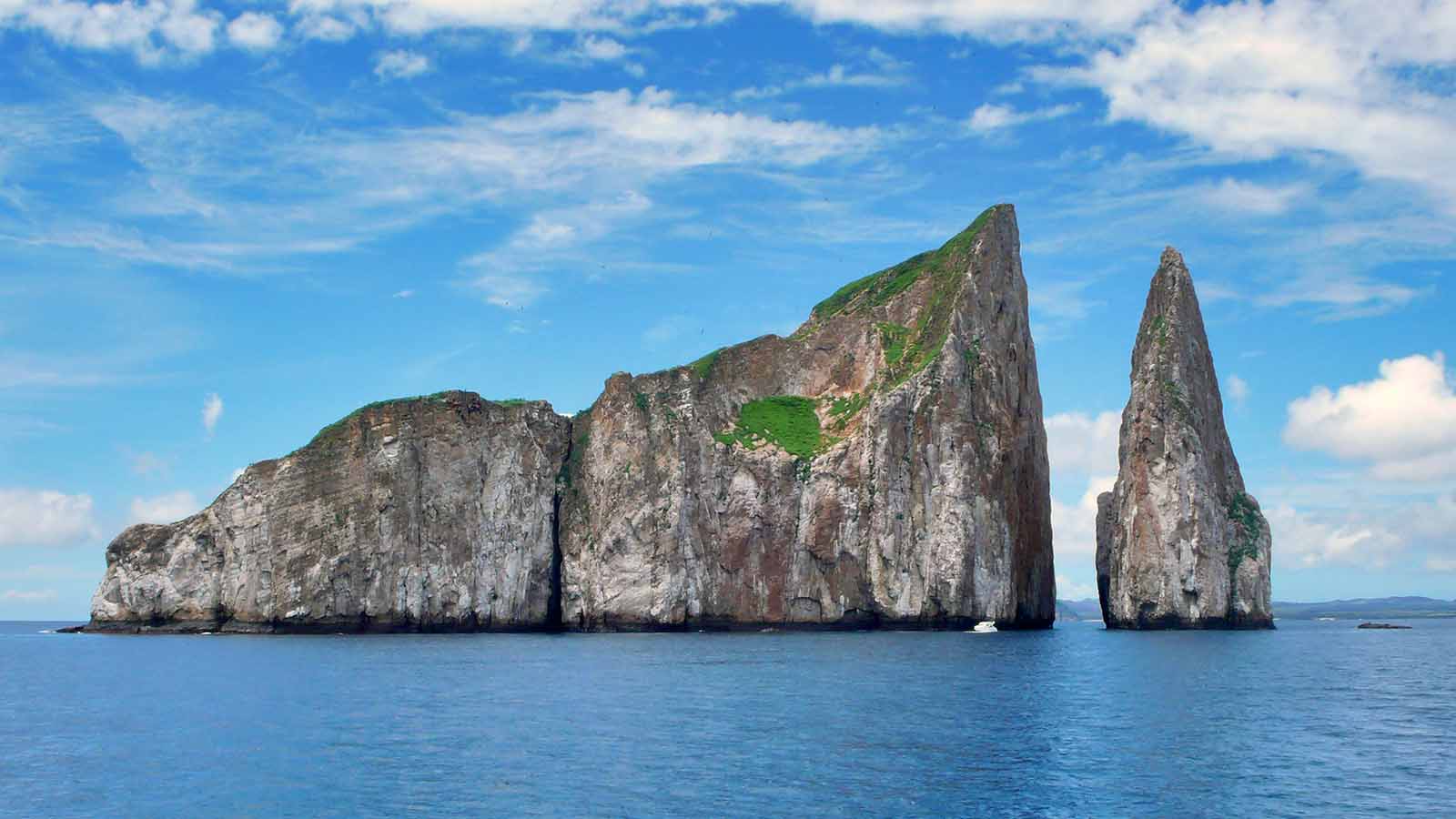 Kicker Rock is known locally as Léon Dormido, so named for its alleged resemblance to a sleeping lion. This remnant of a volcanic tuff cone, eroded into twin peaks, rising 140m above water, is the icon of San Cristóbal and one of the most popular attractions in the Galápagos.
The spectacular view above water is matched by the scenery and abundance of life below. Here you will see turtles, rays, reef-fish of all types, sea lions (of course) and several species of shark including hammerheads which sometimes congregate in the 100's. Numerous guests have told us they experienced their best ever dives and snorkels there.
Kicker Rock is 40 to 60 minutes from port (depending on the boat). There are no landings on the rock itself but tours also visit a beach were guests can walk, swim and snorkel. It can be visited as the principal destination, or as part of the 360 Tour.
Rosa Blanca
Vivencial 360 Tour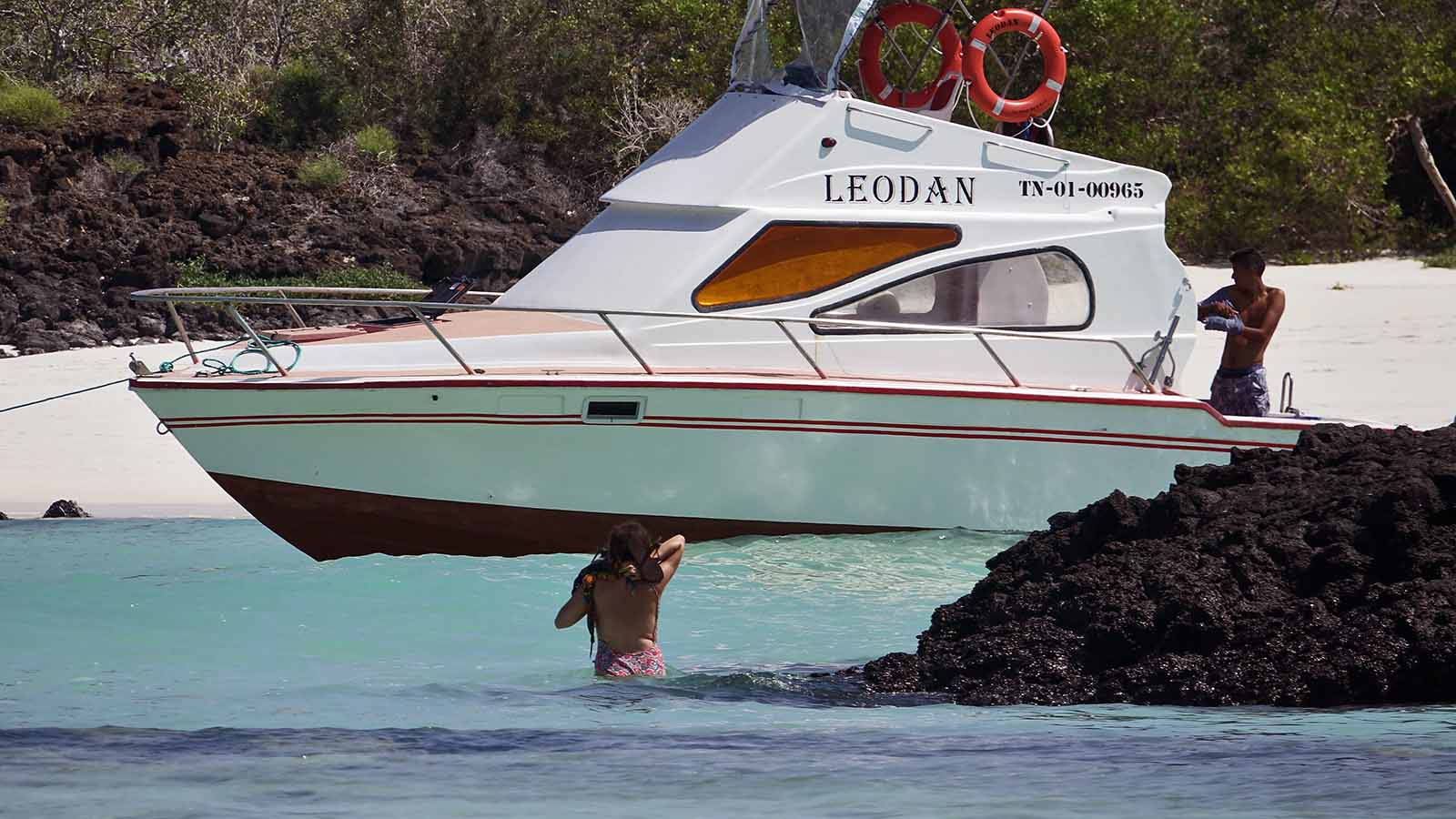 Rosa Blanca, on the SE side of the island, is one of the most fascinating sites on San Cristóbal. It features:
A crystal-blue bay, full of turtles and rays
A gorgeous beach with powder-fine, white sand
A pool in which sharks and turtles swim in circles waiting for the next high tide
A lagoon where you can snorkel among the turtles and sharks
Rosa Blanca is exclusive to the Vivencial Fishing boats and is featured on every 360 Tour It can also be visited alone or in conjunction with a fishing excursion.
Punta Pitt
Daily Tour (onshore) - Vivencial (offshore)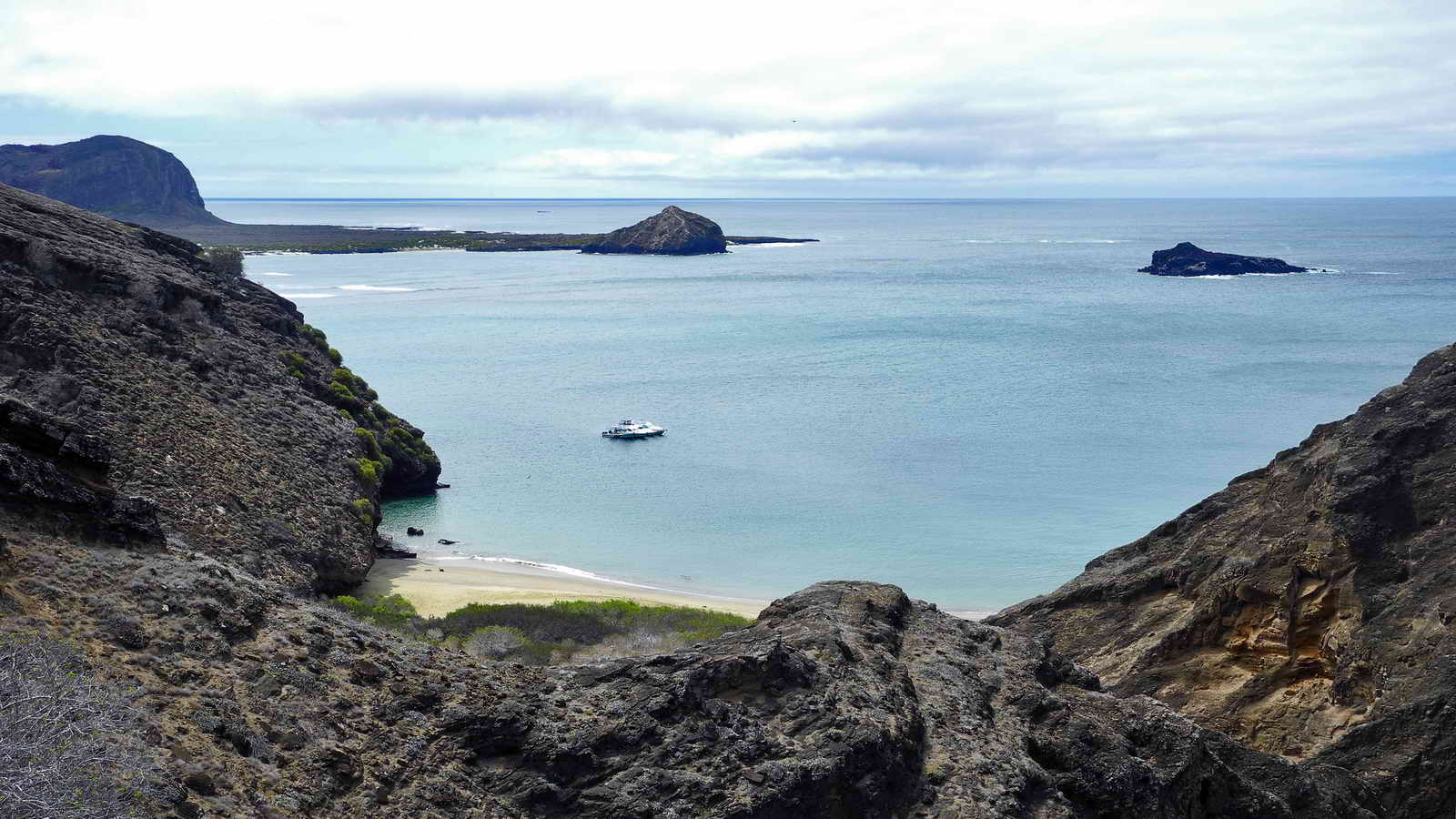 Punta Pitt, 1½ to 2 hours from port, is truly a geological wonderland.
The Daily Tour excursion starts with a wet landing on one of the World's very few green (olivine) beaches where sunlight sparkles off the crystalline granules. As on many of San Cristóbal's beaches, you will need to give space to a sizeable sea lion population.
The walk, which takes about 2 hours, features some challenging sections but at all times spectacular scenery.
The Vivencial Fishing boats pause here, usually for lunch, so you can view all 3 native species of booby, nesting on the rocky shoreline: Nazcar Booby, Blue-Footed Booby, Red-Footed Booby, and Frigate Bird.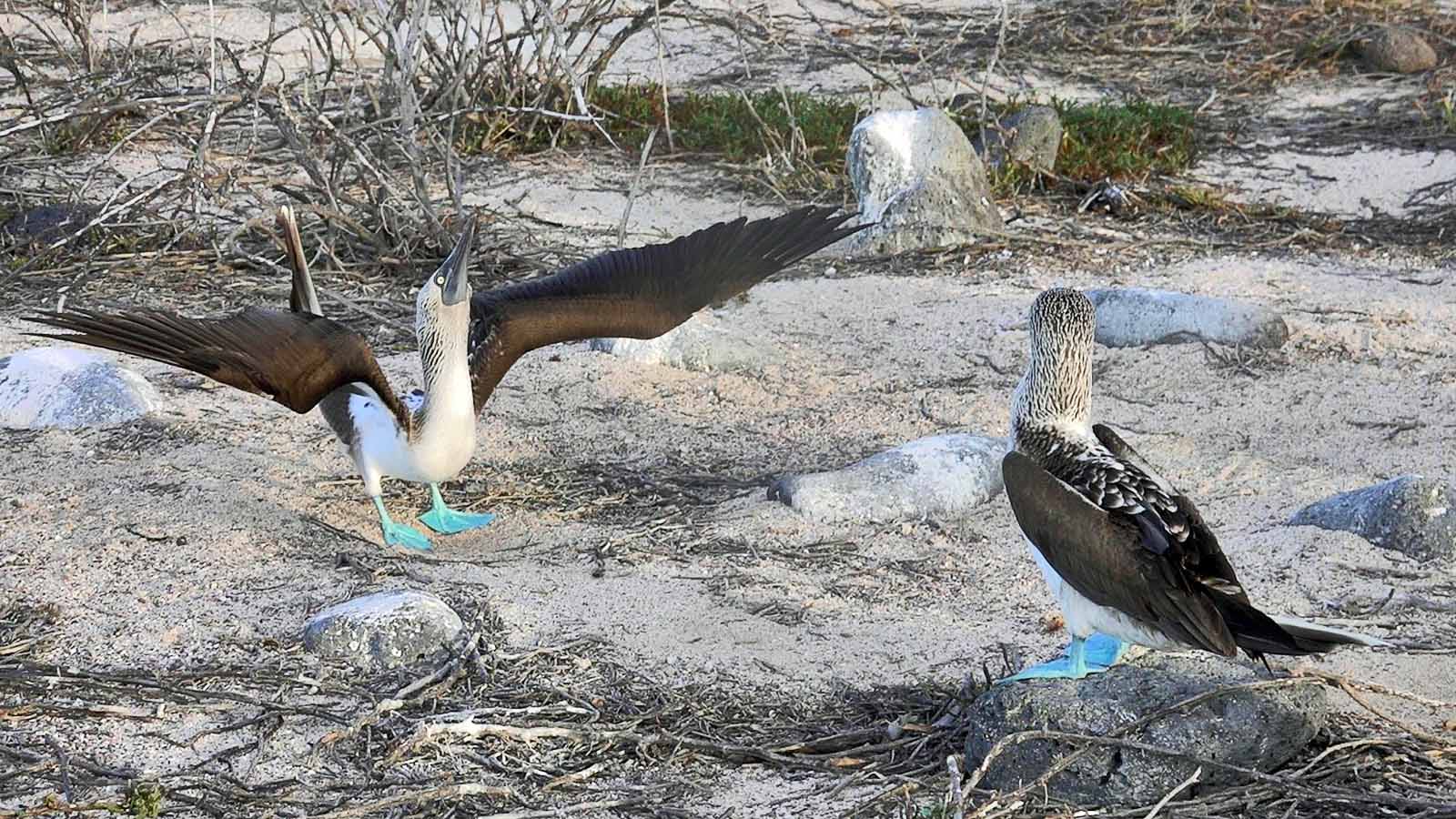 Isla Lobos is a small island just offshore and about 30 minutes from port.
The short hike, which takes about an hour, leads you past nesting blue-footed boobies and frigate birds.
The crystal clear waters, in the channel between Isla Lobos and San Cristóbal are ideal for a check-dive or snorkel with sea-lions, rays and turtles.
Cerro Brujo
Daily Tour (onshore) - Vivencial (offshore)
Cerro Brujo features a beautiful, long, coral-sand beach, interspersed with tidal pools and excellent snorkelling opportunities.
Both Daily Tour and Vivencial boats offer a panga-ride to view the extraordinary and photogenic rock formations, but only the Daily Tour boats will take you onshore to walk one of the most beautiful beaches in all Galápagos.
Galapaguera Natural
Daily Tour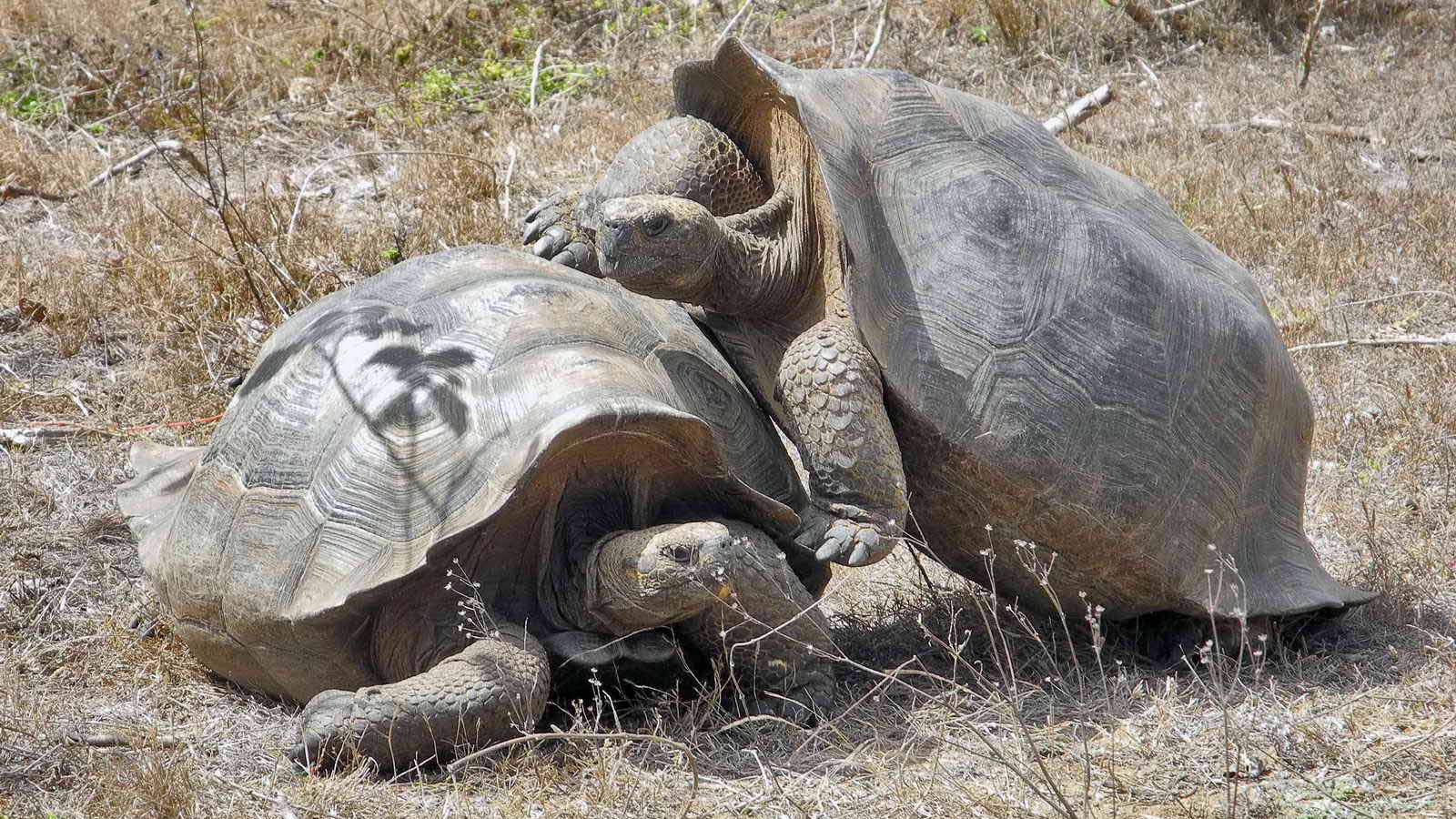 You can see tortoises at the breeding centres, and some farms in Santa Cruz. And, while this 5km (each way) hike can be challenging, especially in the rainy season, it provides a rare opportunity to observe tortoises in their natural environment.

Española
Vivencial & Daily Tour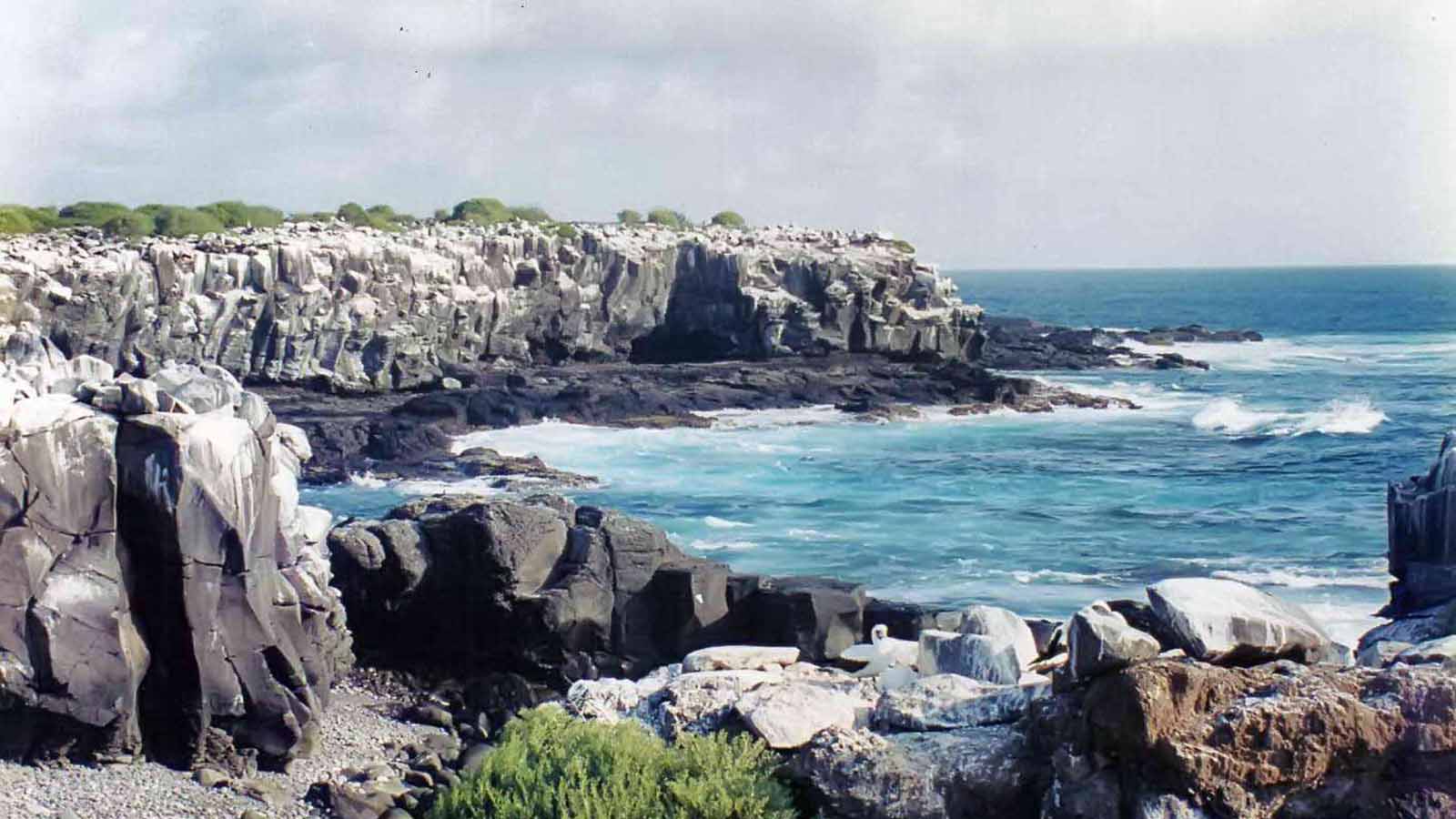 Española is one of the oldest islands in the Galápagos and, due to its isolation features several endemic species. In fact, Española hosts 97% of the world's population of Waved Albatross.
You will also see mockingbirds, lava lizards, Galápagos hawks, tropic birds and lots of sea lions.
The Daily tour at Punta Suarez, features the famous blowhole: El Soplador , and 1.3km of pristine white beach at Gardiner Bay, where you can relax or snorkel with sea lions and sea turtles.
The Vivencial boats take you to the recently opened sites of Punta Cevallos, El Manzanillo, and Islote Tortuga (for snorkelling).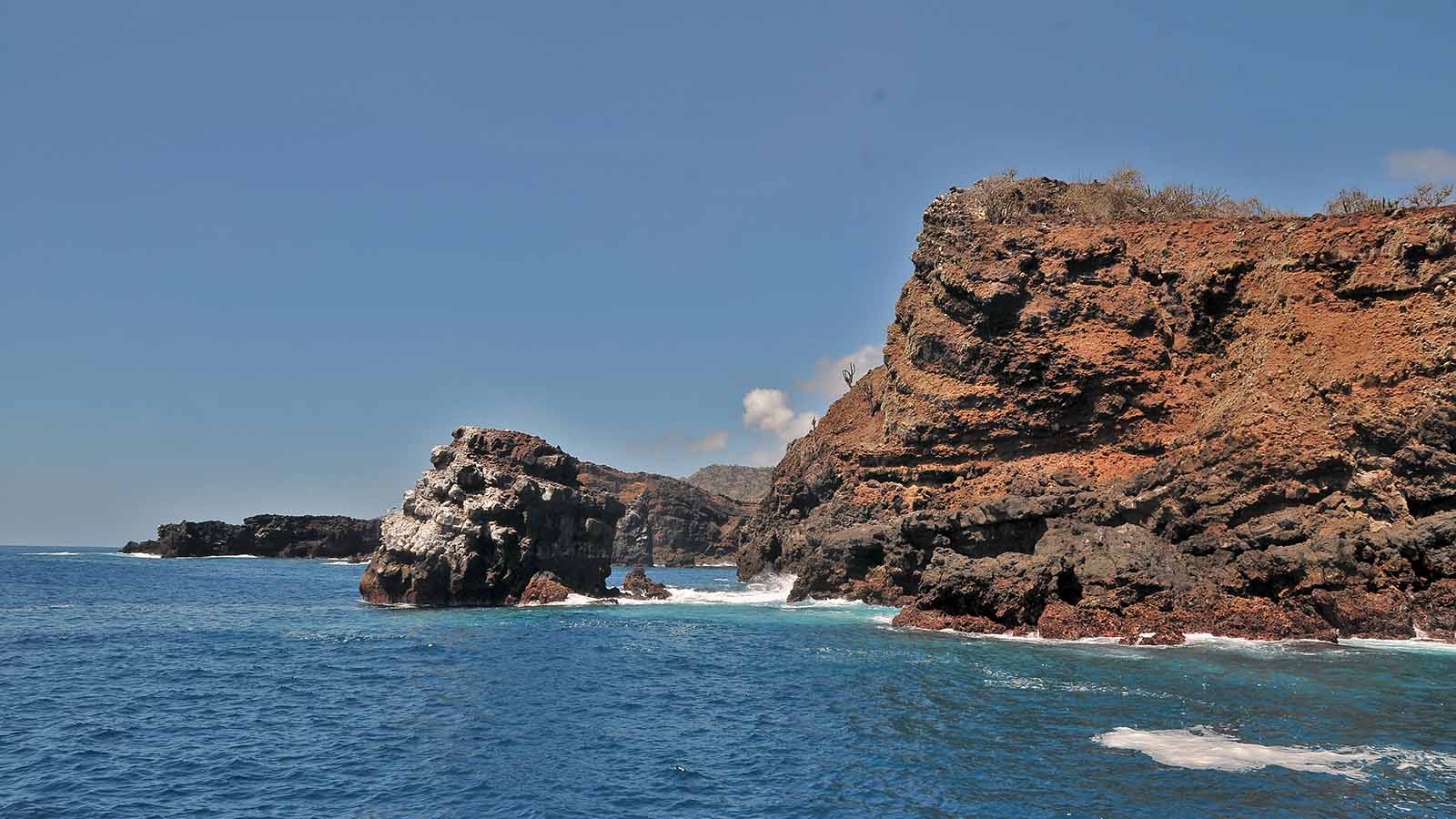 Besides it's gorgeous scenery and abundant wildlife, Floreana is storied for it's human history, starting with the first settler of the Islands: an Irishman by the name of Patrick Watkins.
Floreana gained further notoriety with the arrival of the infamous "Baronessa". A descendent of the Wittmers still operates a hotel on the island.
The Beaches
Vivencial & Daily Tour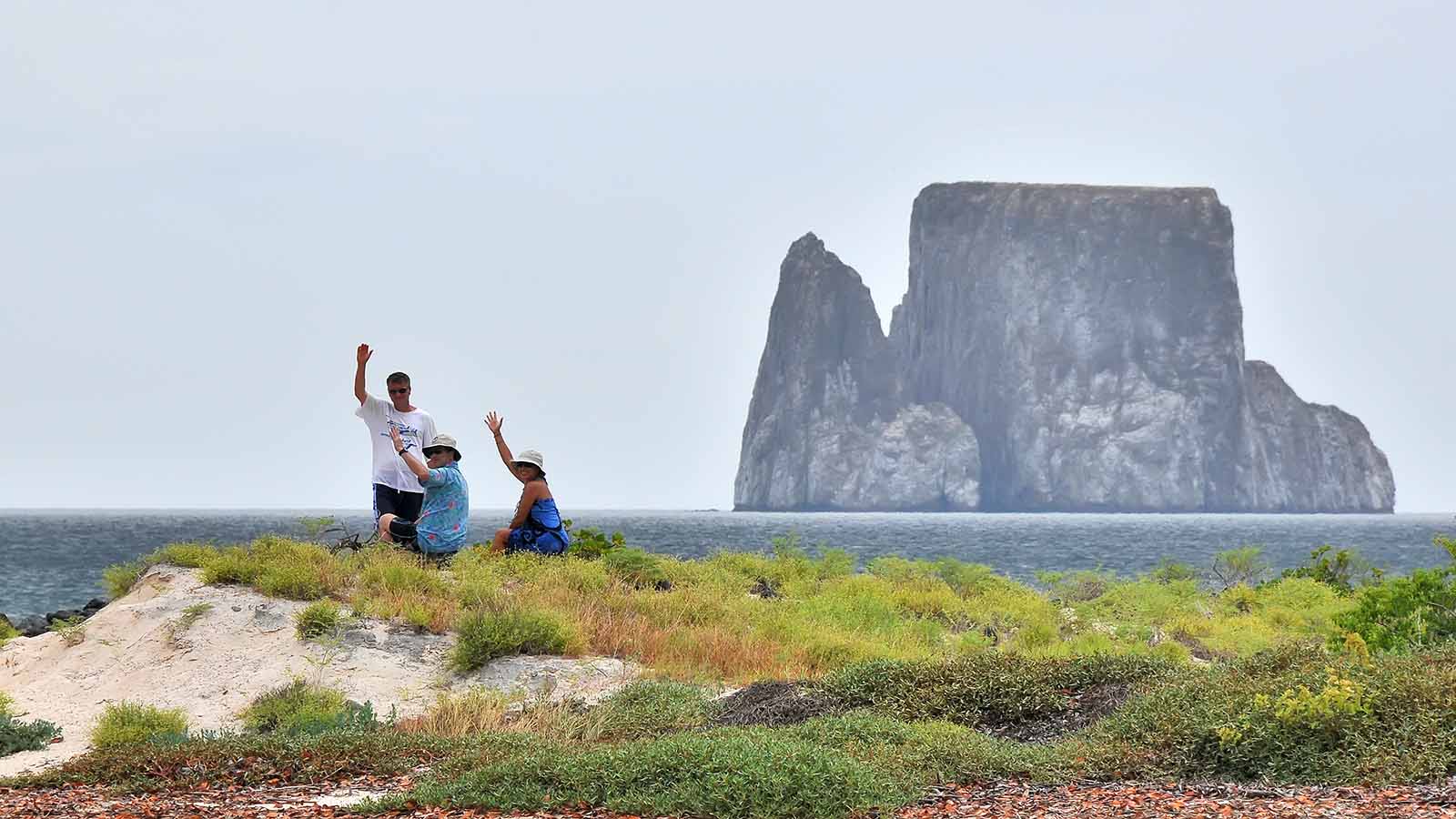 Most daily tours include a visit to one of San Cristóbal's many beautiful and isolated beaches, including:
Manglecito
Puerto Ochoa
Puerto Grande
and others...
San Cristóbal boasts an unmatched selection of beautiful and isolated beaches to visit.