The Galápagos' best kept secret
San Cristóbal is mostly overlooked by the media and the tourist-mills. But we are grateful for that because, of all the islands where you can stay, San Cristóbal features the best blend of beauty, tranquility, facilities, convenience and attractions without being isolated, crowded or polluted.
San Cristóbal grew up around fishing and San Cristóbal is also the seat of provincial government. Tourism is a relatively new industry here, and still relatively down to earth, especially when compared to Santa Cruz...
Santa Cruz has more luxury hotels.
While San Cristóbal has excellent restaurants, Santa Cruz offers more "fine dining" options.
Santa Cruz offers more high-end jewelry and souvenir stores as well as art galleries.
Only Santa Cruz has hotels with private waterfront / beaches.
Santa Cruz is more tourism centred, so it is easier to find a bilingual guide. But then you are more likely to need one as there are fewer opportunities for self-guided exploration.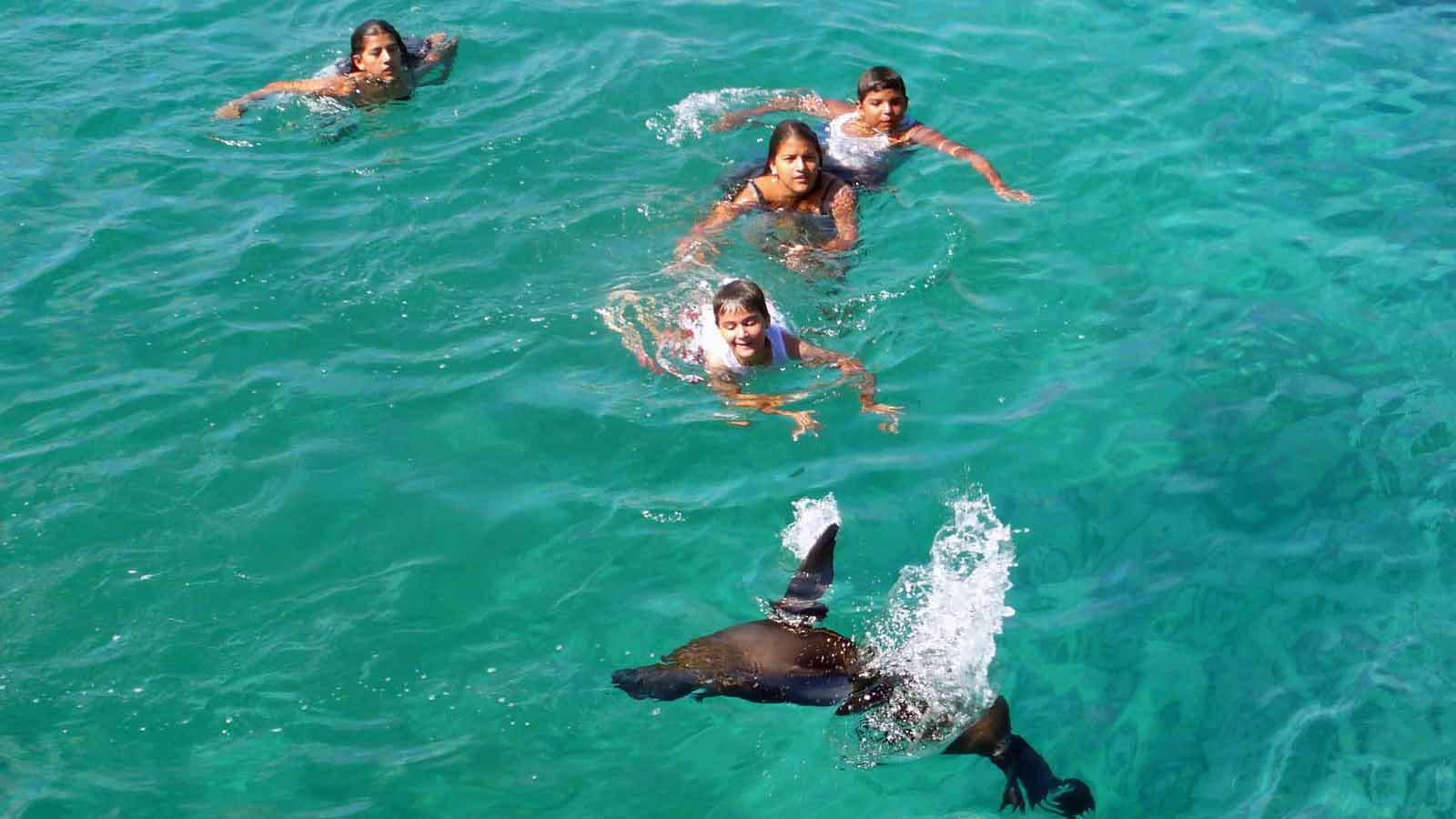 But in San Cristóbal...
The water in the bay is crystal clear, unpolluted, and teeming with life;
The waterfront is public and accessible, and you can see the ocean from many parts of the town.
Unlike other islands where they have to de-salinize the water, San Cristóbal has a natural supply of clean fresh water.
The port and surroundings abound in wildlife, particularly sea-lions, iguana's, boobies, frigates, pelicans, turtles, birds and fish.
We have the best diving south of Wolfe and Darwin Islands (which are 240 miles north and accessible only on a diving cruise).
We have, by far, the best fishing.
We have, by far, the best surf.
We have several beautiful beaches only a short walk from the town.
The airport is only 5 minutes from the town centre. Santa Cruz requires a bus, a ferry and another bus (up to an hour travelling).
We have the biggest, most modern and well equipped hospital in the region, and
Cristóbaleños are friendly and hospitable by nature.
If you must have 5-star luxury, infinity pool, room-service, private beach, gourmet restaurants, fine wine and expensive souvenirs, perhaps San Cristóbal is not for you. But, if you want to really experience the Galápagos: the wildlife; the out-of-this-world scenery; the people; the tranquillity - Unspoilt in all its rocky, prickly, verdant, wild, unpredictable and completely amazing best - Come to San Cristóbal.

So much to see and do
More about the Galápagos Islands and Marine Reserve
Visit our Galeodan site for more about the Galápagos Islands and Marine Reserve: Las Islas Encantadas (opens in another tab)