Surfing
Photo by Memo , Galápagos
Surely there is not a more extraordinary, exciting and geographically blessed location for surfing than San Cristóbal Island!
San Cristóbal is a popular surf destination with several world-class breaks.
Puerto Baquerizo Moreno and Jardín de Helena are in the SW corner of the island, amidst a cluster of breaks which take advantage of both north and south swells.
Whenever there is a swell (which means most days of the year) then there is good surfing within walking distance of the Suites. And when the big swells roll in, the waves can be truly spectacular.
Most of the breaks are reef or a combination of point and reef. The one beach break is at Puerto Chino: an ideal spot for learning.
The San Cristóbal breaks are not only entertaining but exclusive. Many times, your only company will be the pelicans (overhead) and a few sea-lions (at your side) showing you how it's done and occasionally pulling on your leash.to see if you are paying attention.
You will find the locals both friendly and happy to share their knowledge. Be courteous and you will be making new friends in no time.
Here we provide a brief description of the primary San Cristóbal breaks. But first: a few photos to whet your appetite....
Where am I going to surf today?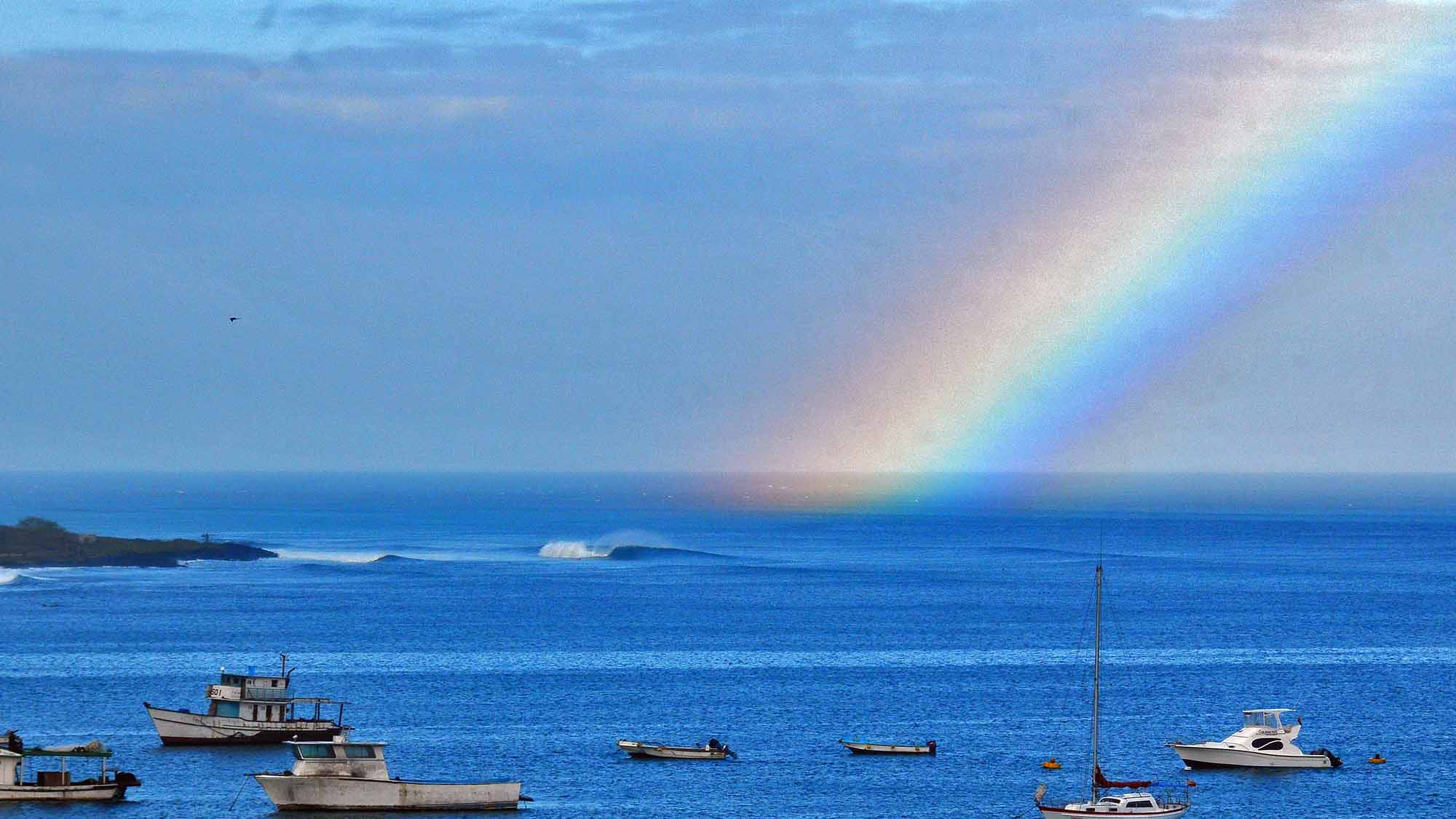 The Galeodan Suites face West, towards El Cañon where you can see for yourself the size and direction of the swell.
Then you'll know whether to turn left at the gate and head for Carola or turn right and make for Cañon or Tongo and Valero, even La Loberia.
Several excellent breaks (Carola, El Cañon, Tongo & Valero) are within easy reach of the Galeodan Suites and for these you have the option of walking or taking a water-taxi. Some others (La Loberia & Puerto Chino) require a land-taxi and short walk. Finally, there are limited-access breaks (Manglecito, Punta Pitt & others) which can only be reached by sea with special arrangements.
Ask Us
Daniel & Leonardo Keegan are always happy to help our guests make the most of their visit, whether first-time surfers or pro's. They can also arrange more formal guiding or instruction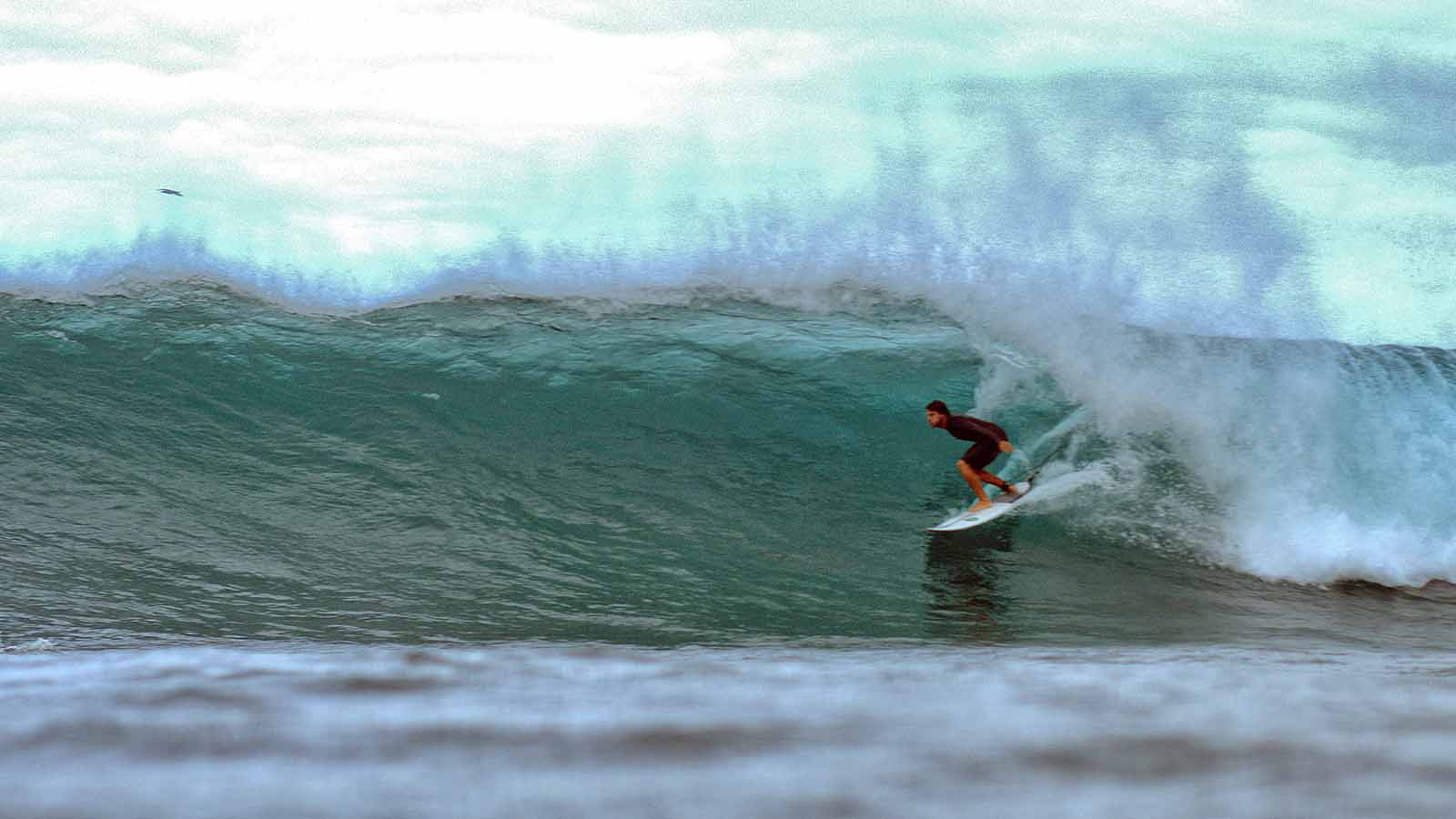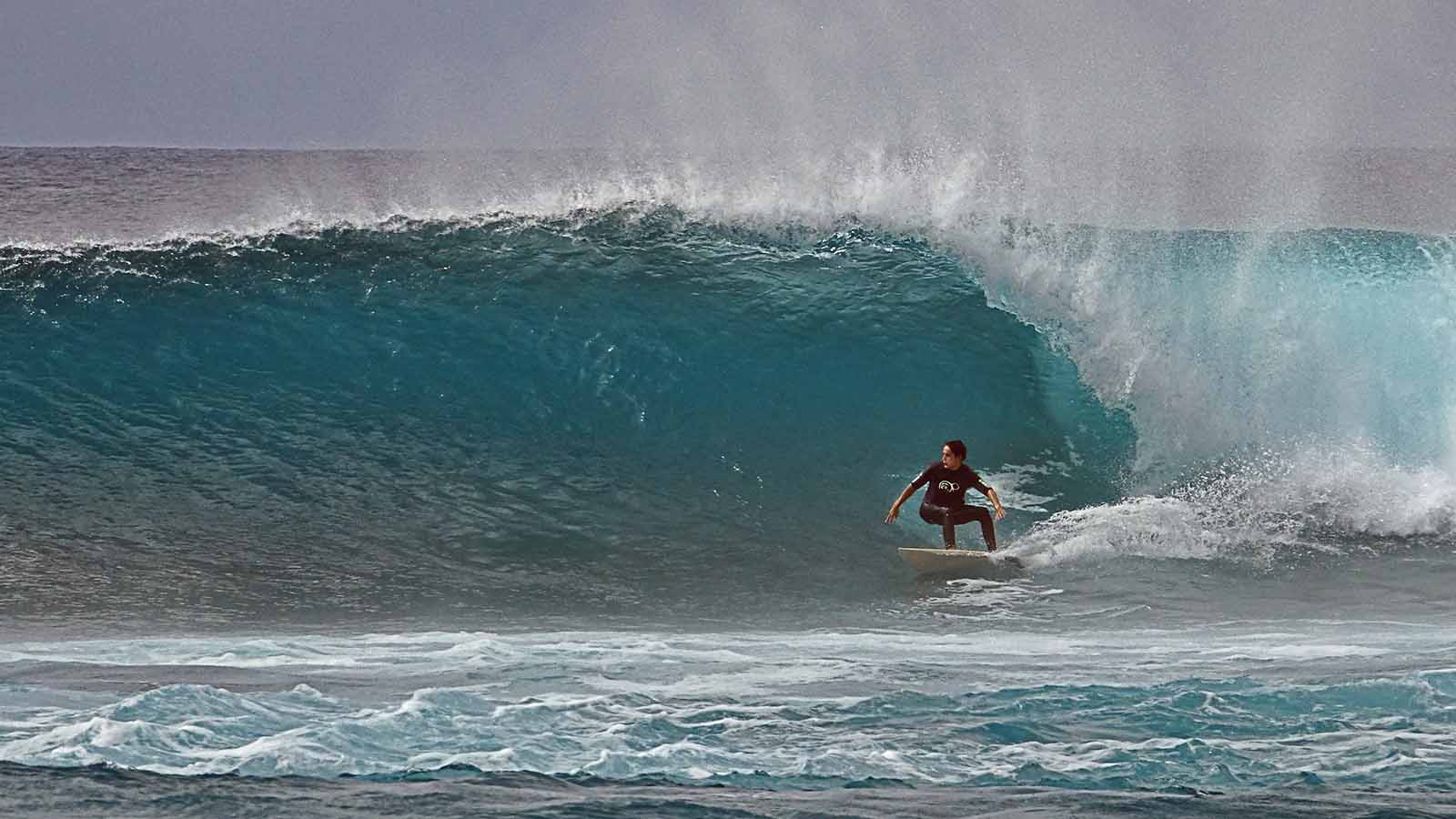 The Breaks...
Carola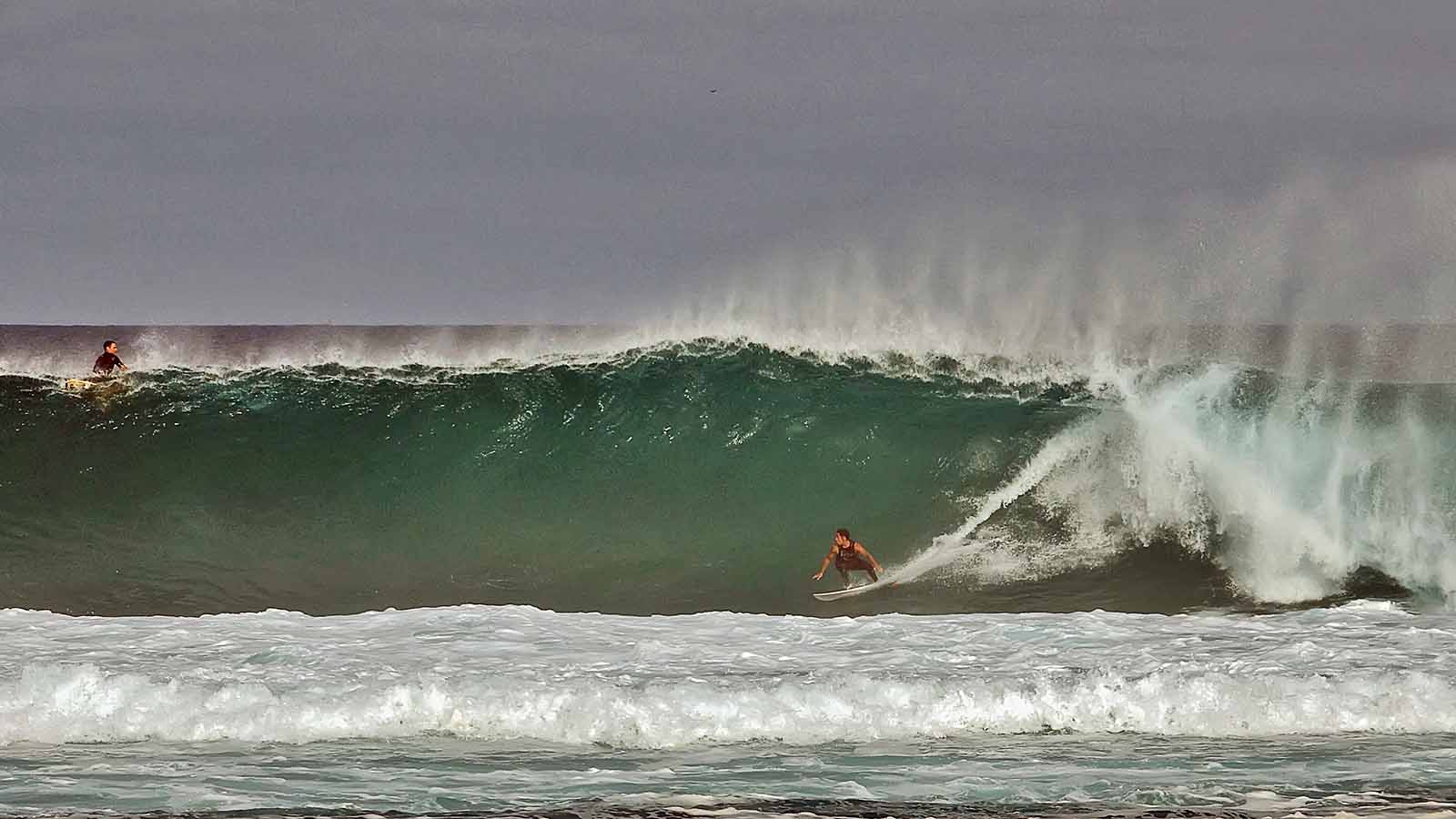 Carola features a right \ point break at the Point and left \ reef breaks in the Bajo (good for beginners) and the aptly named Suicidio (not for beginners).
With a north swell, best from November through May, Carola features fast waves of 1 to 3m, occasionally more, with a good chance of catching barrels. The Point surfs well with most tides.
Carola is just 15 minutes' walk from the Suites. Or you can take a water-taxi from the nearby fishermen's pier.
El Cañon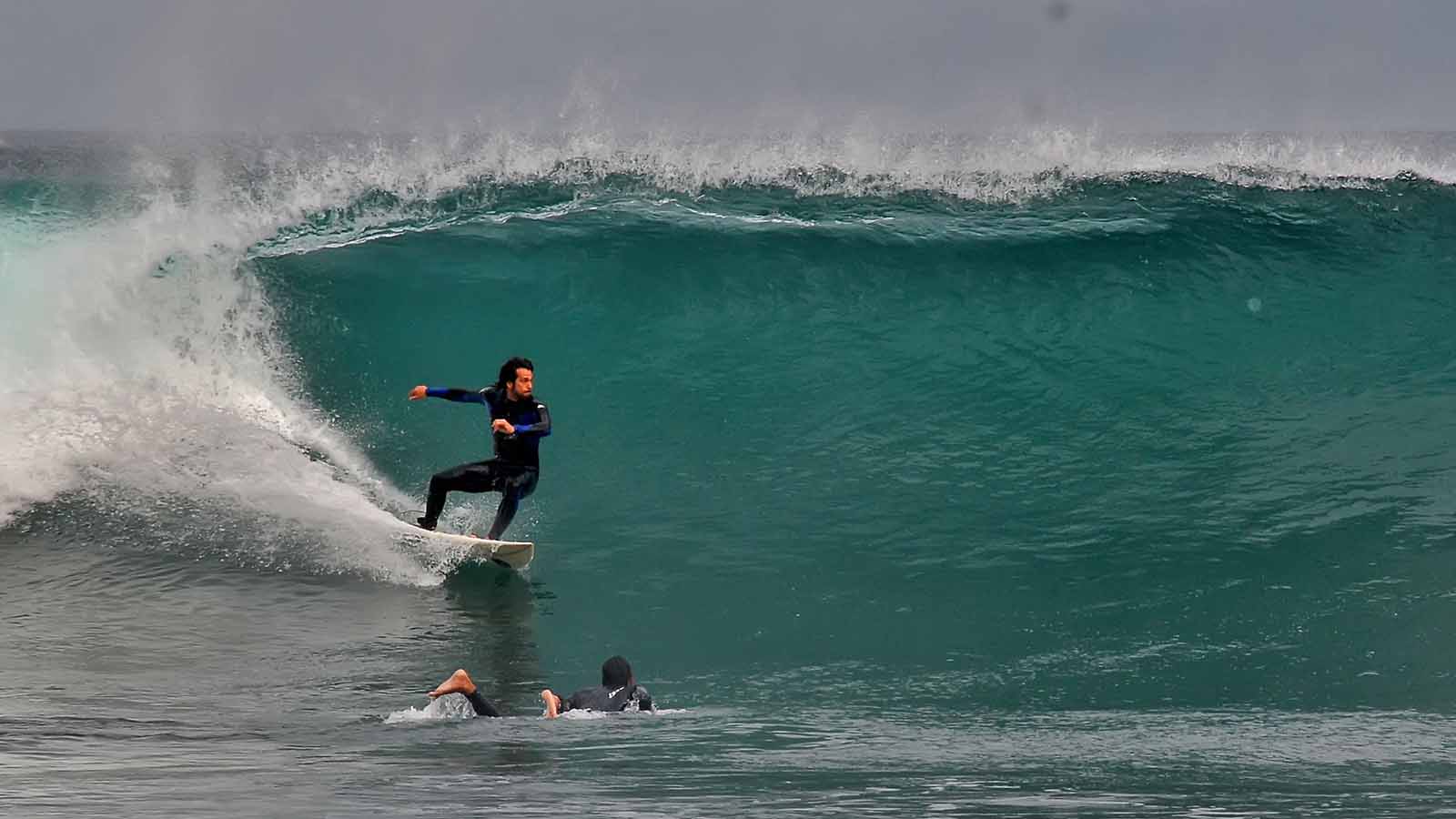 El Cañon is a reef break for intermediate to experienced surfers. The waves are medium to fast, 0.5 to 3m, breaking mostly left with occasional barrels. Winds are mostly cross or off.
El Cañon surfs with either a south or north swell but the north swell tends to generate bigger waves, arguably best at high tide, from November through May.
El Cañon is 30 minutes' walk from the Suites, passing through the Navy base, which generally entails you leaving a passport at the gate. Or you can short-cut across the bay in a water-taxi.
Tongo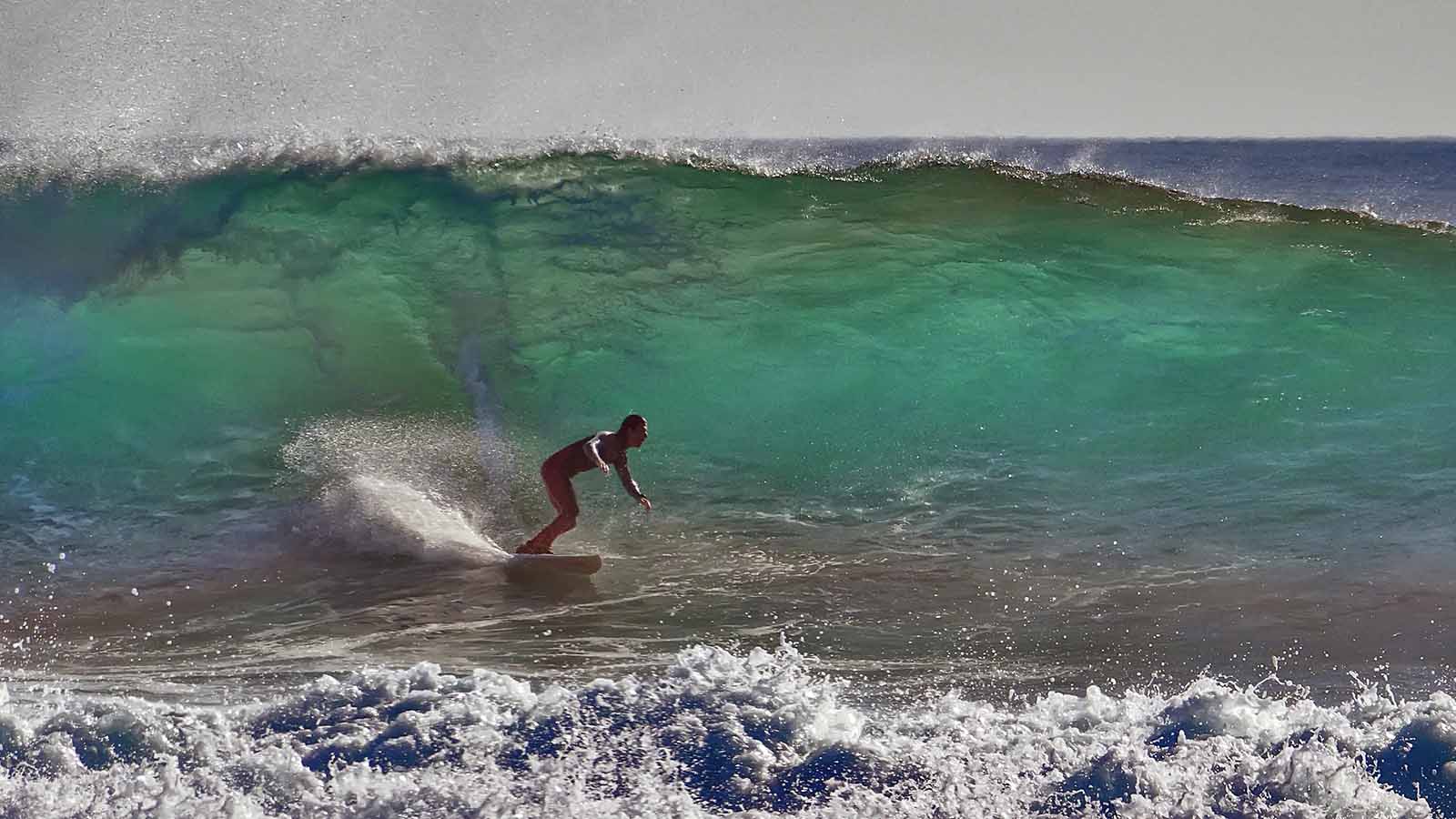 Tongo presents a range of reef breaks for beginners (Bajo) through intermediate (Medio) and advanced (Pico). Waves are medium speed from 0.5 to 2.0m with occasional barrels at the Medio, more at the Pico. The waves break mostly left with some right and even split peaks (L&R). Winds are cross.
Tongo needs a south swell, best from November through May, good at any tide.
Tongo is 40 minutes walk from Helena's Garden (10 minutes beyond El Cañon) which means going through the Navy base or taking a water-taxi.
Valero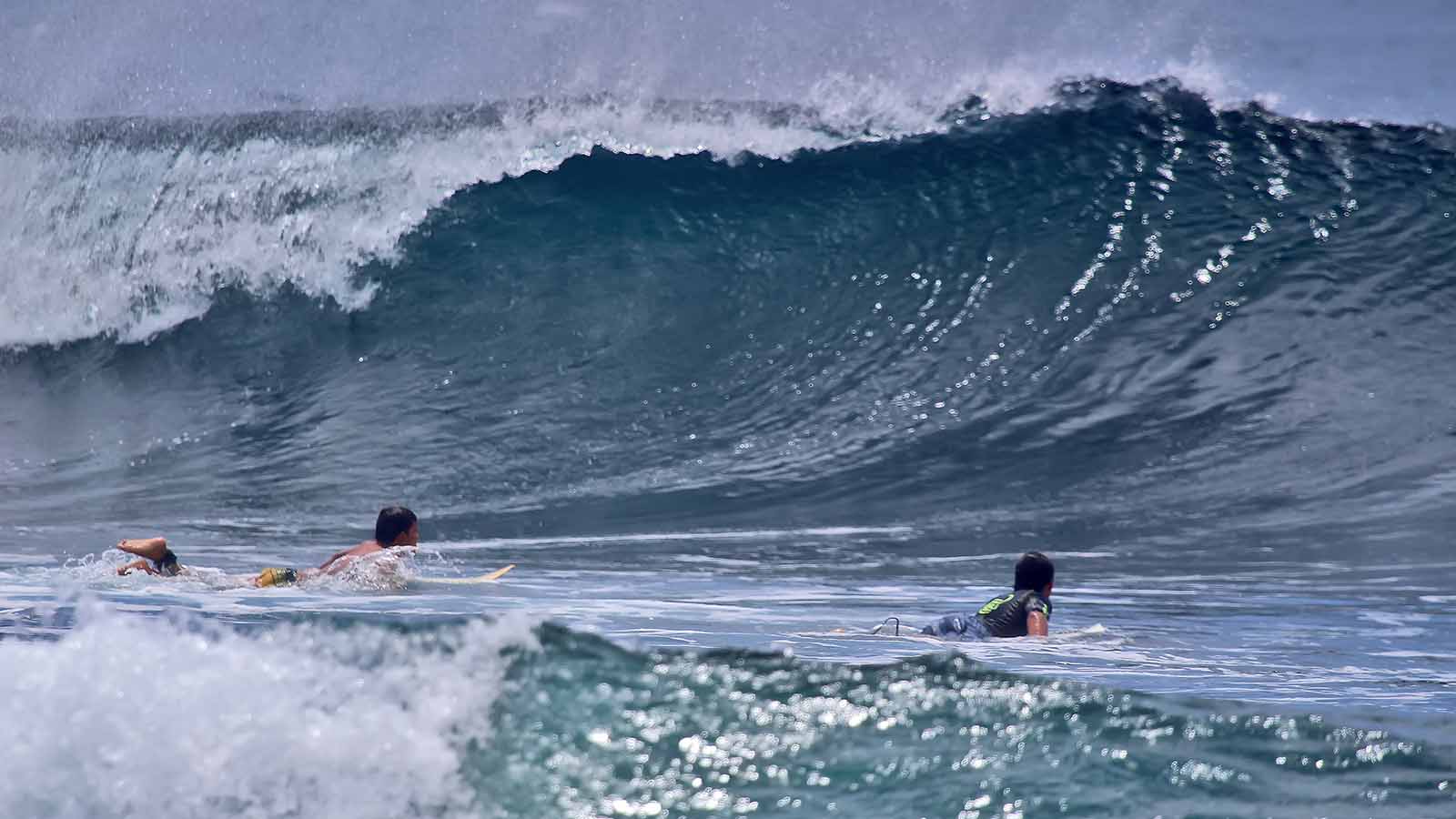 Valero is another reef break, for intermediate and advanced surfers, fed by north and south swells, 5 minutes walk beyond Tongo. Waves are hollow, 0.2 to 3.0m, breaking left and right, about evenly, best at high tide with a north swell. Winds are mostly cross.
La Loberia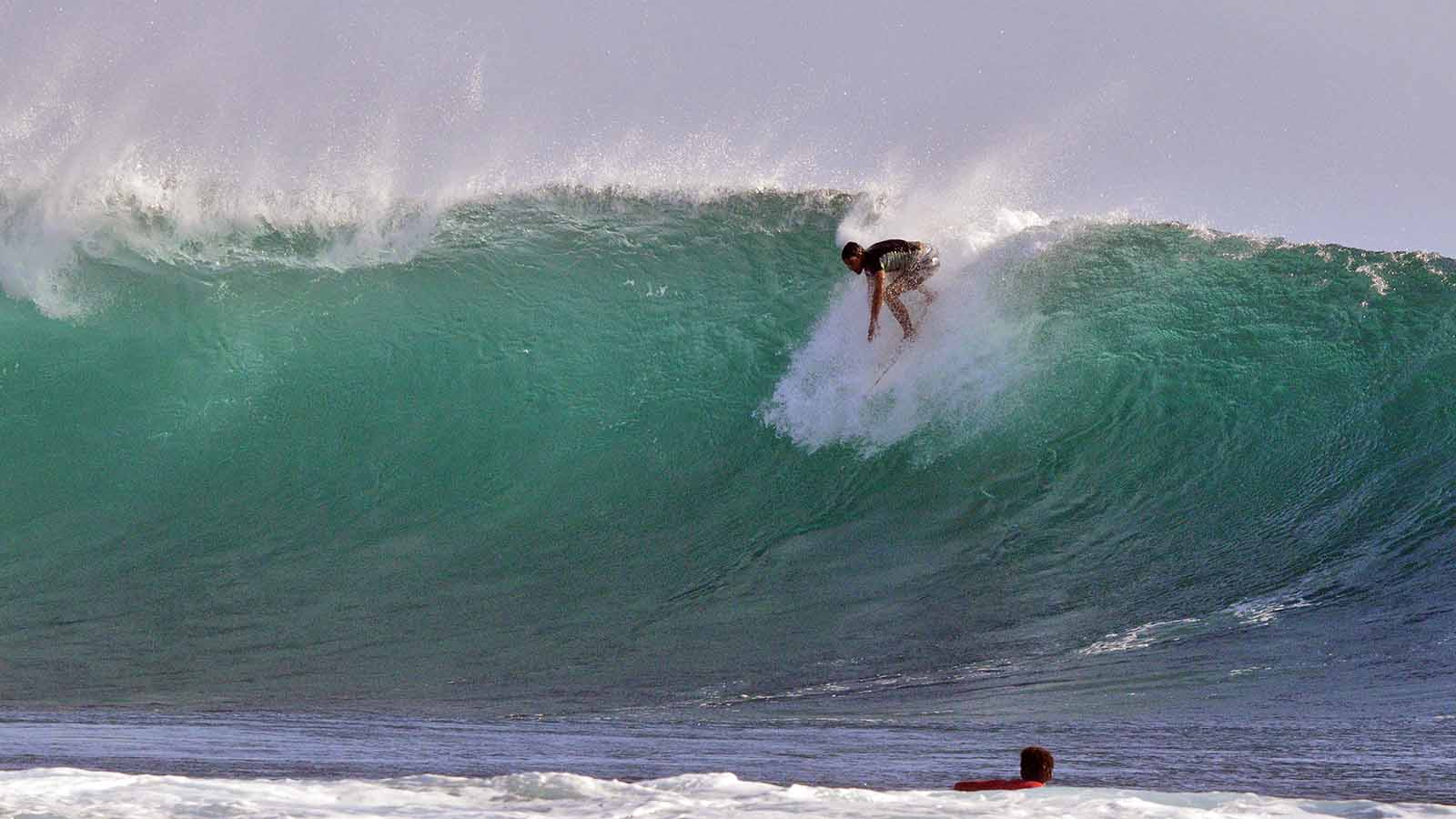 La Loberia (so named for its sea-lion colony) is a reef with left and right breaks and split peaks for experienced surfers. Waves are medium speed with mostly on wind (often unsurfable).
La Loberia needs a south swell, best at high tide from January through March.
La Loberia is a 5 minute land taxi ride (just beyond the airport) followed by a 5 minute walk.
Manglecito
Manglecito is a point and reef break, left with a cross wind, for intermediate and advanced surfers It needs a north swell and is best from November through May.
Manglecito is not accessible by land and is out of range of the water-taxis so you need to make special arrangements to go there with a tourist-licensed boat.
Puerto Chino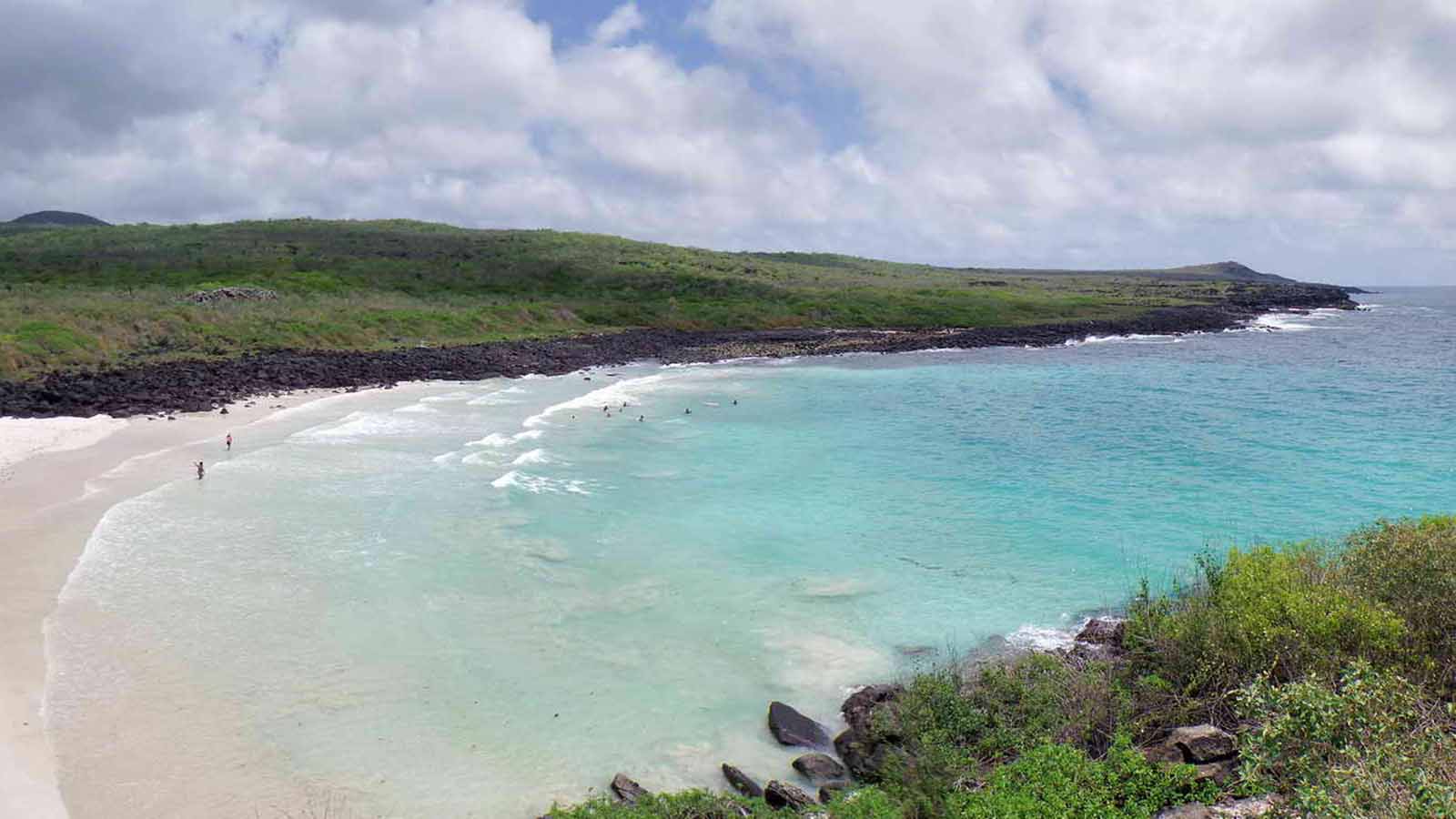 Puerto Chino is San Cristóbal's only readily accessible beach break with slow and mushy 0.5 to 1.0 m waves for beginners, breaking left and right. Winds are on or cross.
Puerto Chino needs a south swell and is surfable at all tides, any time of year.
Puerto Chino is 30 minutes away by taxi or bus. It's a beautiful place to hang out, with or without waves.
Playa Mann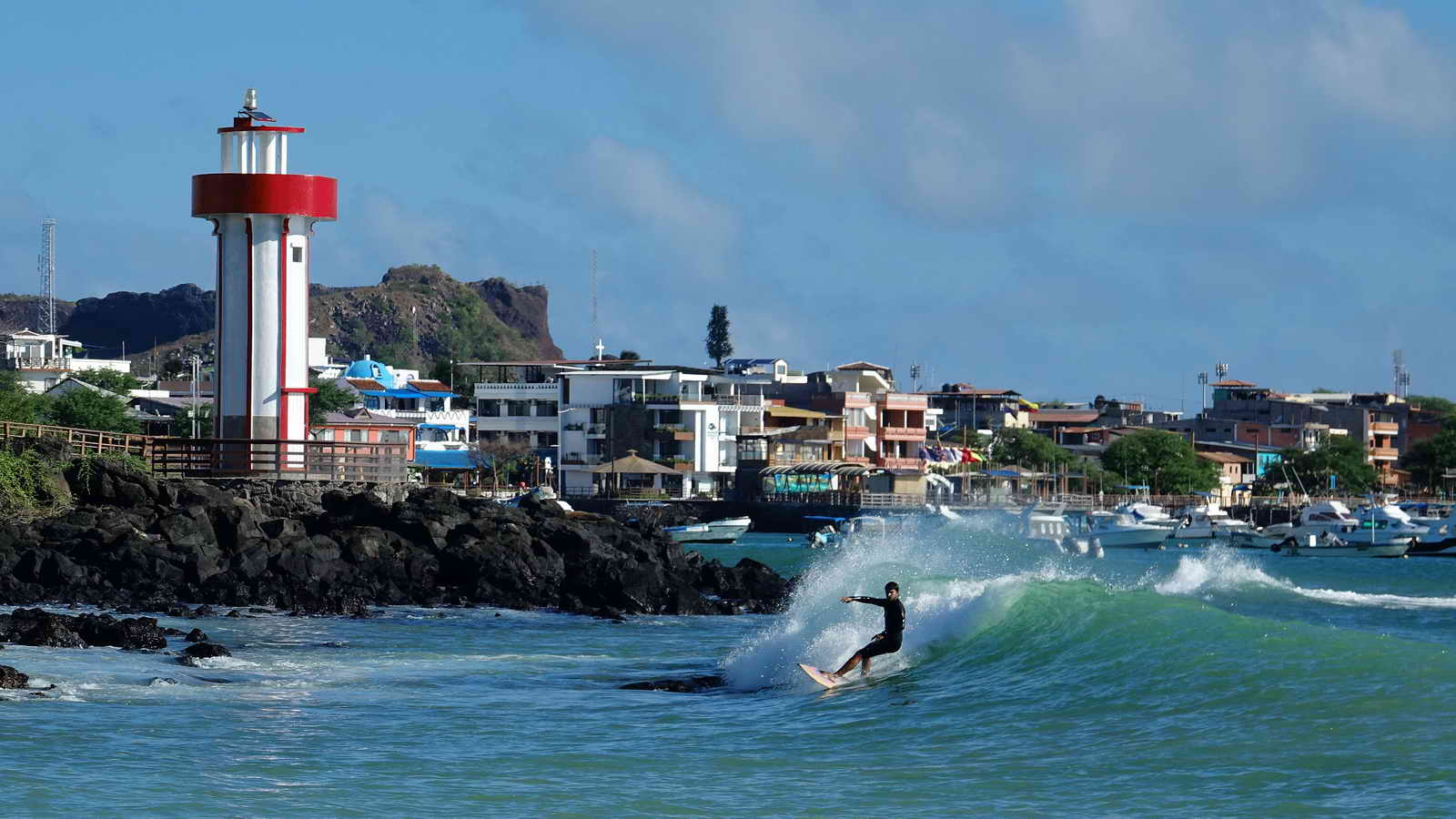 Playa Mann is not one of San Cristóbal's better known breaks. But with a strong swell and a low tide, Playa Mann can match some of the more popular breaks - And it's right next door.
The reef breaks right on the north side of the beach and left on the south. It's a great spot for beginners and intermediates.
Punta Pitt...Crateres...
Punta Pitt , for intermediate and advanced surfers, has an exposed offshore reef, breaking right, with sometimes strong off winds. There are good waves most months but better in November through May.
Punta Pitt is at the northern tip of San Cristóbal, 1.5 to 2 hours boat-ride from port and, like Manglecito, requires special arrangements to access. Ditto for lesser-known, but no less rewarding breaks, like Crateres , on the NW shore.